Cisneros and Travis Win Titles at North Central Tourney
Dec 19, 2014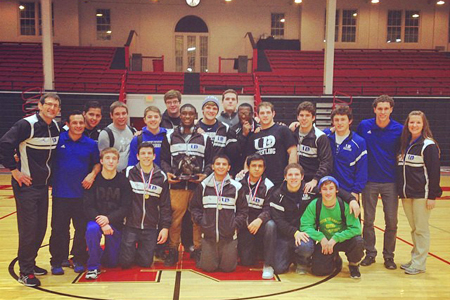 ‌
NAPERVILLE, Ill. - The University of Dubuque wrestling team earned two individual titles at the 2014 North Central College Wrestling Tournament. Freshman Joey Cisneros won the 125 lbs. weight class after beating Collin Lesko of Alma in the finals by a decision of 8-2. Senior Brian Travis claimed the 149 lbs. title after earning a 3-2 decision in the finals over Kyle Witgen of Olivet College. Nic Rivera battled his way through the 133 lbs. bracket and lost by a narrow 3-1 decision in the finals. UD placed third in the tournament with 106 points.
Other Spartans placing in the tournament included: Elton Turnage-Manuel who finished third at 174 lbs. Stephen Rosenburg placed fourth at 141 lbs., Nathan Cristian fourth at 197 lbs., and teammates Kody Krenz placed fifth at 149 lbs. and Adrian Collier was fifth at 157 lbs.
Cisneros (125) and Travis (149) both went 4-0 for the day en route to their titles. Junior Elton Turnage-Manuel placed third at 174 lbs. in perhaps the toughest weight class with several Top-10 NCAA ranked wrestlers. Seeded 5th, Elton went 5-1 for the day including a pin over #8 NCAA seeded Aaron Richardson (Augustana College). Turnage-Manuel had preivously lost an overtime match in the season to Richardson and made major progress this season. NCAA ranked wrestlers in this weight class included #2 Conner Lefever and Nick Allen (Olivet College) who is No. 4 in the most recent NWCA Individual Rankings.
Wrestling at 133 lbs., senior Nic Rivera had a 3-1 record en route to a second place performance. Rivera beat #3 seed Nick Micelli (MSOE) in the semi-finals match (14-8). Rivera has made much progress this season as he previously lost to Micelli on November 8 at the Knox College Chuck Porter Invite by a score of 9-2. Wrestling for the Spartans at 141 lbs., junior Rosenburg finished 4-2 for the day to place fourth. Senior Cristion at 197 lbs. completed the afternoon 3-2 to finish in fourth place. Collier placed fifth with a 3-1 record at 157 lbs. losing by a close decision in semifinals to #3-ranked Reese Lefever of Wabash College. Krenz went 3-2 for the day at 149 lbs. and beat the #1 seed Nathan Segal by fall en route to his fifth place finish.
UD will travel to the Chicago Duals on Saturday, January 3, 2015 to compete against #2 NCAA Ranked Wabash College.
Rotation for Chicago Duals – 1:00 p.m. start
Rd. 1: Wabash vs. Chicago, St. John's vs University of Dubuque, Harper vs. Manchester
Rd. 2: Wabash vs. St. John, Chicago vs. Manchester, Harper vs. University of Dubuque
Rd: 3: Wabash vs. University of Dubuque, St.John vs. Manchester, Chicago vs. Harper
Wt 125
1 #2-Joey Cisneros (Dubuque) D 8-2
2 #5-Collin Lesko (Alma)
3 AJ Belden (Wabash) M 9-0
4 Jared Brickley (Olivet College)
5 #3-Jimmy Panozzo (Augustana) F M FOR
6 #1-Tommy Poynter (Wabash)
Wt 133
1 #1-Brendan Gould (Augustana) D 3-1
2 #2-Nic Rivera (Dubuque)
3 #5-Matt Darling (Olivet College) D 3-1
4 #4-Casey McWhirter (North Central)
5 Jacob Cottey (Wabash) F M FOR
6 #3-Nick Miceli (MSOE)
Wt 141
1 #3-Devin Broukal (Wabash) D 11-5
2 #1-Layten Binion (North Central)
3 #4-Justin Wolfenden (MSOE) M 12-4
4 Stephen Rosenburg (Dubuque)
5 Justin McGady (North Central) F 1:17
6 Damian Johnson (Olivet College)
Wt 149
1 #2-Brian Travis (Dubuque) D 3-2
2 #4-Kyle Witgen (Olivet College)
3 #3-Nick Bova (Wabash) D 4-3;TB
4 #1-Nathan Segal (North Central)
5 Kody Krenz (Dubuque) F 1:51
6 Brian Egan (Augustana)
Wt 157
1 #1-Reece Lefever (Wabash) F 3:51
2 Chanc Ravish (Wabash)
3 Chance Brown (Wabash) D 6-4
4 #3-Blake Olson (North Central)
5 #5-Adrian Collier (Dubuque) M 12-4
6 #4-Ross Pennock (Olivet College)
Wt 165
1 #2-Stephen Aiello (Wheaton) D 4-0
2 #4-Dan Fleet (Olivet College)
3 Jared Fekete (Wheaton) D 6-4
4 #5-Eric Kirkman (North Central)
5 #6-Taylor McPhail (Alma) D 0-0
6 #1-Ethan Farmer (Wabash)
Wt 174
1 #1-Conner Lefever (Wabash) D 11-5
2 #2-Nick Allen (Olivet College)
3 #5-Elton Turnage (Dubuque) D 4-1
4 Mark Maldonado (Wabash)
5 #3-Jordan Richardson (Augustana) D 7-0
6 #4-Greg Ventris (Knox College)
Wt 184
1 #1-Riley Lefever (Wabash) D 6-2
2 #3-Thomas Reyhons (Augustana)
3 #2-Daniel Olsen (Wheaton) F 2:00
4 #6-Vince Pizzo (North Central)
5 Ben Farmer (Wabash) F M FOR
6 Eric Timko (Augustana)
Wt 197
1 #4-Ethan Benoit (Augustana) F FOR
2 Christos Giatras (Augustana)
3 #1-Brett Thumm (Wabash) D 8-1
4 #3-Nathan Cristian (Dubuque)
5 #6-Filiberto Diaz Duran (North Central) F FOR
6 #2-Mahnke Devin (MSOE)
Wt 285
1 #1-Dylan Mahler (North Central) D 3-2
2 #2-Trevor Maresh (Alma)
3 #5-Ryan Steverson (Olivet College) D 6-5
4 #3-Hernandez Jose Luis (MSOE)
5 Jesse Judge (Olivet College)