Men's Basketball Stunned at Home
Jan 10, 2015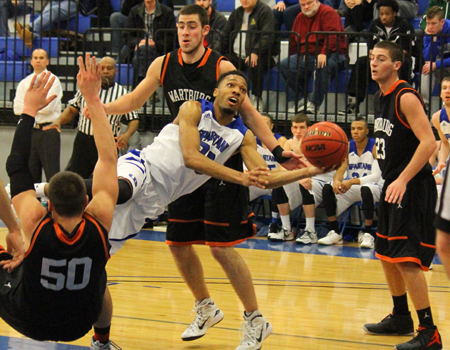 DUBUQUE, Iowa - The University of Dubuque men's basketball team lost just their second game of the season on Saturday. In front of a large crowd in Stoltz Sports Center, the Spartans dropped the conference match-up to the Wartburg College Knights 63-74. The Spartans led the game for over seven minutes, but the Knights would lead by as many as 15 points in the second half to improve to 2-0 in league play.
The Spartans would connect just six out of 25 times from beyond the three point arc (24%) as the Knights shot nearly 40%. UD trailed in rebounding 32-36 and both teams shot well at the free throw line with the Spartans sinking 15-18 attempts (83.3%) and Wartburg 21-25 (84%). The Knights bench would provide 22 points while the Spartans bench was held to just nine points.
UD was led in scoring by Andre Norris who finished with 20 points and nine rebounds in 37 minutes of action. Gage Heffernan added 13 points and Lucas Ware finished with 11 points.
The Spartans (11-2 overall, 1-1 in IIAC) schedule now face back-to-back road games with Luther College (4-9 overall, 0-2 in IIAC) on Jan. 14 with tip off slated for 8:00 p.m. The Norse lost to Central College 89-92 on Saturday. UD will make the long journey to Storm Lake on Jan. 17 to face the Buena Vista University Beavers (8-5 overall, 1-1 in IIAC) at 4:00 p.m. The Beavers lost to Simpson College (6-7 overall, 1-1 in IIAC) 62-65 on Saturday afternoon.