Collier's Heroics Sparks Spartan Victory Over Duhawks
Jan 21, 2015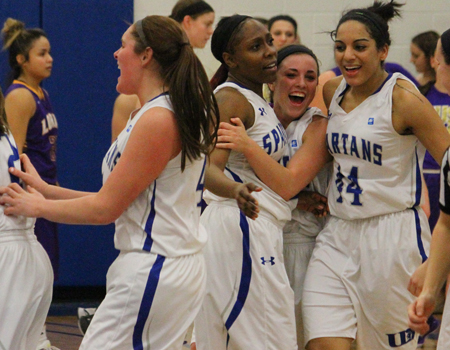 BOX SCORE

DUBUQUE, Iowa - Senior Brittany Collier would not be denied after going on an eight-point tear - punctuated by a pair of threes - with 1:22 remaining that gave the University of Dubuque women's basketball team their final lead in a 57-54 triumph over rival Loras on Wednesday night.

The Duhawks (9-7, 3-2 Iowa Conference) sported a 52-47 lead with 4:58 to go when Collier drilled two threes over a span of two minutes. Collier, who had scored four points prior to her streak, capped the run with a layup at the 1:22 mark which gave the Spartans (10-6, 4-1 Iowa Conference) a one-point lead. Fellow senior Meggie Schmidt calmly sank two free throws with 11 seconds remaining to put away the pesky Duhawks.

Schmidt posted a game-high 17 points on 5 of 11 shooting, including three 3-pointers, to go with five rebounds and three steals. Collier added 12 points, three boards, and finished 2-for-2 from downtown.

Collier nearly doubled her three-point tally after coming into today's game with just three, three-point makes on the season. Collier and Schmidt's efforts helped guide the Spartans to back-to-back wins in the series for the first time since the 2007-2008 season.

The Spartans gained control from the outset after sprinting out to a 7-0 lead. UD never trailed in the first half as Schmidt and Emily Brinker combined to score 17 of the Spartans' 29 points en route to a six-point halftime edge. Loras' Carly Goede flipped the script in the second half after scoring five of her 14 points in consecutive possessions at the 12:24 mark to give Loras their first lead of the night. The Duhawk lead experienced its share of ebbs and flows but never grew to more than five points until Collier took over down the stretch.

UD escaped with the win despite a cold-shooting night for senior star Jenna Kotas. Kotas finished with two points but cleaned up the glass against the no. 1 ranked rebounding defense in the conference to the tune of a game-high eight boards. Both of Kotas' points came off a 2-for-2 effort at the free throw line and was part of a 6-for-8 showing collectively by the Spartans. It was a far cry from the 49 free throw attempts in the Spartans last game against Buena Vista, especially for a team that averaged over 30 attempts through four IIAC games.

Loras finished with a mere 8-2 advantage in second chance points even after outrebounding UD, 42-29, including 12-2 on the offensive boards.

UD, picked to finish fifth in the conference, now finds itself in a three-way tie for first-place in the Iowa Conference standings. The Spartans will put their 4-1 IIAC record on the line against Simpson this Saturday, January 24. Simpson (13-3, 3-2 IIAC) knocked off previously unbeaten no. 25 Luther (4-1 IIAC), 88-81, in overtime on Wednesday night.