Men's Basketball Defend Home Court, Cruise to 67-55 Victory over Duhawks
Jan 21, 2015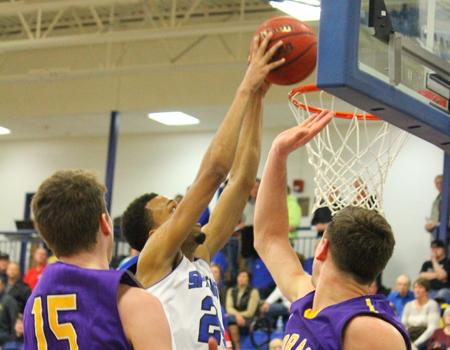 DUBUQUE, Iowa - The University of Dubuque men's basketball team bounced back after Saturday's road loss on Wednesday evening by defeating Loras College 67-55 on Jon Davison Court in Stoltz Sports Center. Mediacom taped the game for replay the last week of January for the fans in Dubuque.
The Spartans quickly leaped to a big opening lead, before the Duhawks battled back to slice the lead to nine points at halftime. The Spartans dominated by leading for 38:17 of the contest. UD battled offensively and defensively and finished with seven blocks and a handful of dunks to keep the capacity crowd cheering throughout the night. A first half technical foul by Loras appeared to extend the momentum, but the Spartans and the Duhawks would both struggle at the free throw line in the opening half shooting 36% and 40% respectively.
UD capped off the sweep of the Duhawks by shooting nearly 50% from the field and over 55% from the three point arc.

"I'm really proud of the way our team defended and also how efficient we were on the offensive end," said Head Coach Robbie Sieverding. "We got back to our style of basketball on both ends of the floor and put together our most complete game of the year."

Four out of five Spartan starters would finish the night in double digit scoring while defensively UD held the Duhawks leading scorer to 10 points. Norris finished with 19 points in 29 minutes of action. Gage Heffernan and Brandon Ferguson both finished with 12 points while Jacob Mohlis had 10 points. Lucas Ware led rebounding with nine and he pumped in nine points as well. A chilly night at the free line with UD sinking just 4 of 15 attempts, Loras finished sinking 14-22 attempts.

Kain Arthofer provided a spark off the bench with a pair of season-highs with five points and five rebounds, including a tough putback layup off a missed free throw that energized the crowd.

"I thought Kain Arthofer gave us some really good minutes and energy off the bench tonight," said Coach Sieverding. "Brandon Ferguson also played a very good overall game after some recent struggles."
UD improved to 13-3 overall and 3-2 in the IIAC. The Spartans host Simpson College (6-10 overall, 1-4 in IIAC) who lost to Luther College (5-11 overall, 1-4 in IIAC) 56-62 on Wednesday. Tip-off slated for 4:00 p.m. against Simpson.

"Simpson comes to town on Saturday and they are a big physical team that has some nice athleticism on the wings," added Coach Sieverding. "Preparation will be key in order to have success."