Men's Tennis Play Well to Open 2015
Feb 7, 2015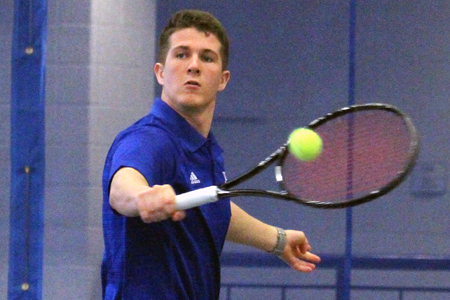 Match vs. Grandview University
DUBUQUE, Iowa - The University of Dubuque men's tennis kicked off their 2015 season with a triangular with strong competition against Edgewood College and Grandview University on Saturday, Feb. 7 in Chlapaty Recreation and Wellness Center. The Spartans dropped the opening match to Edgewood 1-8 and were swept by Grandview 0-9.
UD battled Edgewood into three tiebreaks and it was the Spartans Jordan Hamling who defeated Michael Wanta, 6-3, 2-6, 10-6 to collect the lone win of the afternoon. The Spartans young team of a senior and five freshmen fought a valiant effort, but unforced errors would slow the Spartan attack in their home opener of 2015. It's early in the season and expect the Spartans to continue to improve as the squad made up of two upperclassmen and six freshmen continue to gain valuable playing experience this spring. Despite the losses on Saturday, the quality of competition was about as good as they will face all season and should help the Spartans once they begin Iowa Conference action at home on Saturday, Feb. 21 vs. Wartburg College.
The Spartans continue a busy and tough spring schedule this week when they travel to face Milwaukee School of Engineering and Ripon College on Saturday, Feb. 14 and travel to Ashford University on Sunday, Feb. 15. The Spartans are 1-2 overall this season.