Wrestling Honored with Top-30 Academic Ranking by NWCA
Mar 13, 2015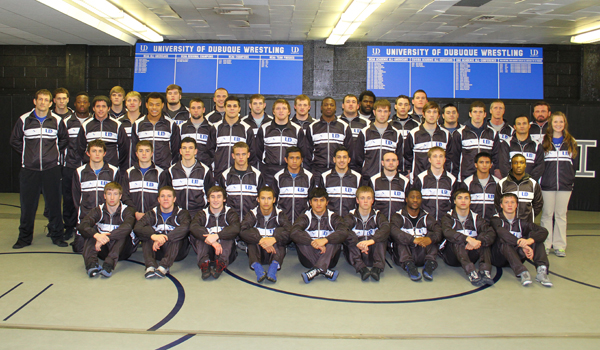 MANHEIM, Pa. - The National Westling Coaches Association (NWCA) announced the their academic awards for 2014-15 at the NCAA Division III National Championships this week. The University of Dubuque wrestling team earned the NWCA Academic Team Honor by being ranked #28 in the nation in overall team grade point average with a 3.27 GPA.
Individually the Spartans were led by two seniors Manuel Mendoza, a senior 165 lbs. from Salinas, Calif./Everett Alverez High School (pictured above left) and Brian Travis, a senior 149 lbs. from Redington Shores, Fla./Northside Christian High School (pictured above right) who were named as NWCA Division III Scholar All-America team members for head coach Jon McGovern. McGovern ascended to Division III president in August of 2015 and is currently serving a three-year term.
The National Wrestling Coaches Association, established in 1928, is a professional organization dedicated to serve and provide leadership for the advancement of all levels of the sport of wrestling with primary emphasis on scholastic and collegiate wrestling programs. The membership embraces all people who are interested in amateur wrestling.
As a leader in the NWCA, McGovern will continue the goals of the NWCA. Some of the those goals include: grow the number of wrestlers, coaches, and wrestling programs at all levels; train coaches and parents to help every student reach his/her fullest potential through the participation of wrestling; promote student-wrestler welfare (safety, health/wellness, academic achievement, etc.); transition wrestling to be a more media friendly sport; inspire state and federal agencies to legislate favorable rules/regulations that will grow wrestling; promote outstanding accomplishments through a comprehensive award program; and strive to save threatened programs and start new ones.
McGovern has been the Spartans head wrestling coach since 2002. He is UD's all-time leader for career coaching dual meet wins with 98, McGovern was named NCAA Division III National Coach of the Year in 2006, coached UD wrestling to four Top-20 finishes and two Top-15 finishes at the NCAA DIII National Championships including two individual champions.
McGovern spent 2000 training full time at the Olympic Training Center in Colorado Springs. He placed 4th in the finals of the 2000 Olympic Trials in Dallas Texas. He was a 1998 US National Team Member and placed third at the 1998 US National Tournament and third at the 1998 World Team Trials.
He graduated from Central College in 1992. As a Dutch, he earned the distinction of being a three-time NCAA Division III All-American, a three-time IIAC Champion, and a two-time NCAA Division III National Champion. He graduated with a master's degree in education from the University of Iowa in 1996. The native of Riceville, Iowa, was a four-time state qualifier and a three-time place winner for the Wildcats.