Women's Lacrosse Can't Catch the Cardinals in Senior Day Defeat
Apr 11, 2015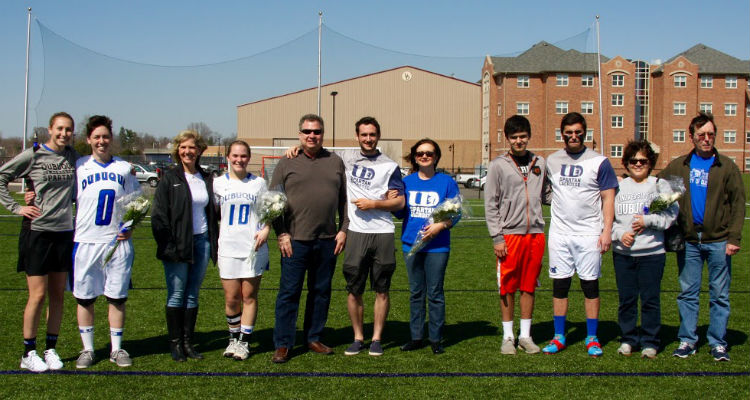 Four lacrosse seniors were honored during Senior Day at Oyen Field on Saturday. From LEFT: Chelsea Hawkins, Judy Borah, Andrew Triantos, and Andrew Poncer
BOX SCORE
DUBUQUE, Iowa - The University of Dubuque women's lacrosse team kept it close until a six-goal flurry in the second half aided North Central's 16-9 triumph over the Spartans.

Spartan attackers Kelly Wetherald and Bridget Schirmers did what they do best after they each secured a hat trick and dished out one assist on the night. Both of their assists were to one another.

Schirmers scored all three in the second half as the Spartans fought back from a 6-3 halftime deficit.

Wetherald and Schirmers opened up with the first two goals of the second half to cut the Cardinal lead to 6-5. North Central (9-1, 2-0 CCIW) responded with an onslaught of three goals in 34 seconds to push the lead to 9-5. The Cardinals following three-goal spurt would prove to be enough as the Spartans eventually got to within 13-9 off a A Robyn Wittkopf score off MF Breann Tjaarda assist, but could come no closer.

The versatile Tjaarda tallied a game-high three assists and led the Spartans with six draw controls as well.

Wetherald did most of her damage in the first half after netting two goals within 23 seconds of each other to give the Spartans (7-4, 1-2 CCIW) the quick 2-1 lead. Two Cardinal goals later, senior Judy Borah netted her only goal of the night to tie it up at 3-3 at the 20:02 mark in the first.

The senior out of Mammoth Lake, Calif. completed an entertaining opening salvo that saw six combined goals in a span of less than five minutes (24:57-20:12 mark in the first half).

Borah finished with one goal and one assist each, to Wetherald and Schirmers. Fellow senior, goalkeeper Chelsea Hawkins, totaled four saves in the effort. Hawkins came into today's game leading the CCIW in saves per game at 7.0.

It was a battle from the outset with neither team holding a distinct statistical advantage in any category. The Cardinals managed to outshoot (31-29) and outclear (18-11) the Spartans, but lost the ground ball battle (19-23), draw control struggle (14-15), and turnover count (25-24).

Borah and Hawkins aren't done yet as they welcome two more home games to finish their careers. Aurora University (6-5, 3-1 CCIW) comes to town this Monday, April 13 at 5:00 p.m. and Elmhurst (Ill.) follows shortly thereafter on Wednesday, April 15 at 5:00 p.m.