McWhite and Garst Guide Spartan Baseball to Day Two Split
Apr 27, 2015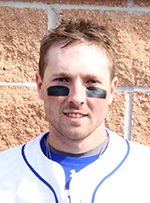 Sophomore Dalton Garst hit a walk-off, sacrifice fly to give the Spartans the win over Coe, 4-3, in game one of Monday's doubleheader.
DUBUQUE, Iowa - Third basemen Austin McWhite hit a solo home run and an RBI-double to set up third basemen Dalton Garst's walk-off sacrifice fly to win game one, 4-3, over Coe. A seven-run, seventh-inning by the Kohawks broke open a close game as the Spartans fell in game two, 10-3, on Monday afternoon.

Game One
BOX SCORE
Spartans win 4-3 (7 innings)

The Spartans (12-24, 7-17 Iowa Conference) utilized McWhite and Garst in tallying four, one-run innings in the victory. Each run was scored in a different fashion as McWhite put the Spartans on the board in the bottom of the second after launching his team-high fifth home run 370 plus feet to left center. Shortstop Ryan Karrick scored LF Jacob Evans from third on a squeeze bunt in the fourth and McWhite followed with his RBI-double to give the Spartans a 3-2 lead through five innings.

That set up Garst's walk-off sacrifice fly that scored CF Daniel Casanova from third to stop Coe's four-game winning streak in the series. The speedy Casanova set up Garst after his leadoff single led to a stolen base. Casanova advanced to third on the Kohawk catcher's overthrow in a failed attempt to thwart Casanova's 43rd career stolen base.

The Lake Tapps, Wash. native now sits 11 steals away from setting the all-time UD career record.

UD starter Doug Van Dyke (2-1) was a force after allowing a mere four hits and three runs (one earned) in a 7.0 inning complete game. Van Dyke also struck out four and leads the team with a 2.92 earned run average in 40.0 innings over the entire season.

Game Two
BOX SCORE
Spartans fall 10-3 (9 innings)

With the Spartans trailing 3-1 to the Kohawks after six innings, Coe (25-12, 17-11 Iowa Conference) exploded for seven runs on five hits to take the convincing 10-1 lead. UD's two-run rally thanks to a two RBI-double down the right field line by pinch-hitter, senior Austin Monfross fell short in the final stanza.

Coe's offense finished with 14 hits that included four doubles and a three-run home run in the seventh-inning barrage. Spartan starter Reed Stumpf (1-3) took the loss, but held the reins early after allowing four hits, two earned runs, and two walks in 4.0 innings of work.

Led by Monfross' double, the Spartan offense collected five hits, each by different players.

The Spartans took one of four from Coe on the weekend and dropped to 19-38 in the all-time series against the Kohawks.

UD will miss out on the Iowa Conference tournament after Buena Vista clinched the sixth and final spot on Monday afternoon. The Spartans will visit last-place Simpson (10-25, 6-18 Iowa Conference) to wrap up the regular season next Friday, May 1 starting at 3:30 p.m. and Saturday, May 2 beginning at 1:00 p.m.