2015-16 IIAC Men's Basketball Champs Win on Senior Day
Feb 20, 2016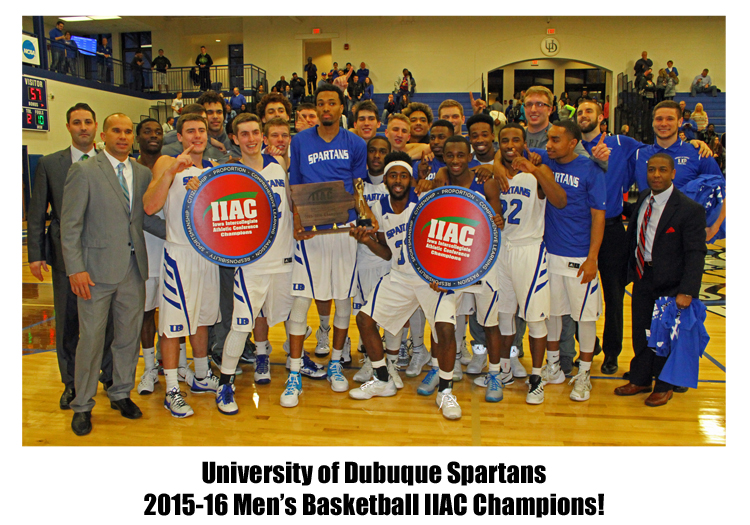 DUBUQUE, Iowa - The University of Dubuque men's basketball celebrated their first IIAC Men's Basketball Championship since 1990 after finishing the conference season with an 11-3 record on senior day. The Spartan senior quartet of Spencer Cooper, Mitchell Morrisey, Andre Norris, and Alex Vogel all earned the start in their final regular season contest on Saturday. The Spartans edged out a 67-57 victory over the Central College Dutch and could face them in the second round of the IIAC Tournament on Thursday, Feb. 25 on Jon Davison Court in Stoltz Sports Center at 7:00 p.m. UD wil play the winner of Tuesday's #5 seed Central College at #4 seed Loras College game.

"Tonight was a special night for our team and for our seniors," said Head Coach Robbie Sieverding. "This group has accomplished so much over the past four years and to finally get to hold the Conference Championship trophy was special for them."

The Spartans captured the win Saturday with a trio of Spartans in double digit scoring. Norris sank 11-12 free throws to end the night with 22 points and eight rebounds. Kain Arthofer made 4-5 shots at the free throw line to finish with 10 points and Jake Weber led rebounding with nine and chipped in 11 points off the bench. Forty-four fouls were called in the game and UD converted 23-32 attempts for 71.9%. while the Dutch sank 13-22 attempts. The Spartans out rebounded the Dutch 37-31 and both teams would sink only four three point attempts each.

"Central is a very dangerous team because of the their ability to shoot the basketball and they really space the floor well," added Coach Sieverding. "We played really good on the defensive end of the floor and I think that was the difference in the game. We still need to take care of the basketball better because we had a lot of empty possessions in the second half. Jake Weber had a solid game once again and has really picked up his game over the past month. This is a fun time of the year to be playing and our team knows we will have to play good in order to advance on Thursday."
League scores on Saturday:
BVU-100, Coe-84
Loras-89, Simpson-87
Wartburg-68, Luther-53
Next week, the Iowa Intercollegiate Athletic Conference (IIAC) Men's and Women's Basketball Tournament begins on Tuesday night with all contests scheduled for 7:00 p.m.
The 2016 IIAC Men/s Basketball Tournament schedule:
No. 6 seed Buena Vista University at
No. 3 seed Simpson College, 7:00 p.m.
No. 5 seed Central College at No. 4 seed Loras College, 7:00 p.m.
No. 3/6 Winner at No. 2 seed Wartburg College, 7:00 p.m.
No. 4/5 Winner at No. 1 seed University of Dubuque, 7:00 p.m.
Semifinals winners face-off with lowest seed hosting championship game
1. DBQ 11-3 (18-7 overall)
2. WAR 8-6 (15-10 overall)
3. SIM 8-6 (15-10 overall)
4. LOR 8-6 13-12 overall)
5. CEN 7-7 (16-9 overall)
6. BVU 5-9 (10-15 overall)
7. COE 5-9 (10-15 overall)
8. LUT 4-10 (5-20 overall)