Ahead of the Curve: The First Century of African American Experiences at the University of Dubuque
Oct 14, 2015 | J.Crane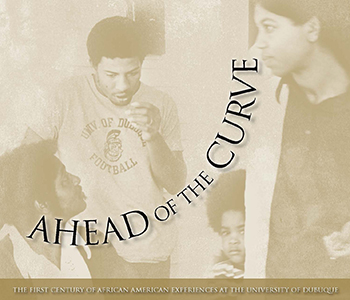 The University of Dubuque's Charles and Elizabeth Bisignano Art Gallery, located in Heritage Center, and the Charles C. Myers Library will open the exhibition Ahead of the Curve: The First Century of African American Experiences at the University of Dubuque on Saturday, October 10 at 6 p.m. The exhibition celebrates the inspiringly integrated and positive experiences of African Americans at UD since the brothers Solomon and Ben Butler entered in 1915, while also acknowledging the racial challenges and hardships encountered on and off campus. Along with the historically rich displays in the Heritage Center, the exhibition includes original documents and photographs on display at the Charles C. Myers Library. "This exhibit will showcase unique archival material that demonstrates the University's relationship to diversity and prompts dialogue across generations and cultural difference," asserts University Archivist Jonathan Helmke.
According to Assistant Professor of History Brian Hallstoos, the exhibition provides an opportunity to reflect on where we are going based on where we have been. "On balance, UD has been ahead of the curve in promoting diversity and creating a safe, nurturing, and stimulating learning environment for students of color. In this exhibition we learn from African American alumni's stories – both positive and negative – about how this institution came to be the amazing inter-racial and inter-cultural environment we know it as today; their stories also provide lessons for how best to embrace our vital diversity moving forward."
The exhibition was curated by Dr. Hallstoos and Archivist Jonathan Helmke, with special assistance from Bisignano Art Gallery Director Alan Garfield, Shawn Hillborn, Archives Assistant Meghann Toohey, and UD student Laura Rapp. Under the direction of professors Hallstoos and Helmke, UD students researched the history in the University Archives, interviewed the many alumni whose stories bring the UD experience to life, and assisted in the construction and installation of the exhibition. Beginning in November the Bisignano Art Gallery portion of the exhibition will move up one floor in the Heritage Center to the American Trust Lounge.
The gallery will host a reception on Friday, October 16 from approximately 6:00 p.m. to 7:15 p.m for this exhibition before the Live at Heritage Center presentation of Brass Transit: The Legacy of Chicago. Copies of the exhibition catalog Ahead of the Curve: The First Century of African American Experiences at the University of Dubuque will be available to visitors. The richly varied catalog will feature scholarly essays, including by historian and expert on Iowa's African Americans in higher education, Dr. Richard Breaux, and a wealth of transcribed interviews of alumni, who bring the experiences on campus to life. Complimentary refreshments will be served at the reception.
Public gallery hours are normally 12:30 p.m. to 5:30 p.m., Monday through Friday, when university classes are in session. The Gallery is also open in conjunction with major events scheduled in John & Alice Butler Hall. The Charles C. Myers Library is open from 7:00 a.m. – Midnight, Monday – Thursday; 7:00 a.m. – 9:00 p.m., Friday; 8:30 a.m. – 9:00 p.m., Saturday; and 10:00 a.m. – Midnight, Sunday when classes are in session. For more information, please contact Brian Hallstoos at 563.589.3855 or by e-mail at bhallstoos@dbq.edu or Jonathan Helmke at 563.589.3216 or by e-mail at jhelmke@dbq.edu.
WHAT: Gallery Exhibit – Ahead of the Curve: The First Century of African American Experiences at the University of Dubuque
WHEN: Saturday, October 10 through November 30, 2015
Reception: Friday, October 16 from 6:00 p.m. – 7:15 p.m.
WHERE: Charles and Elizabeth Bisignano Art Gallery at Heritage Center; Charles C. Myers Library
PRICE: Free to all