Atwater's Throwing Sweep Leads to First Career IIAC Honor
Jan 19, 2016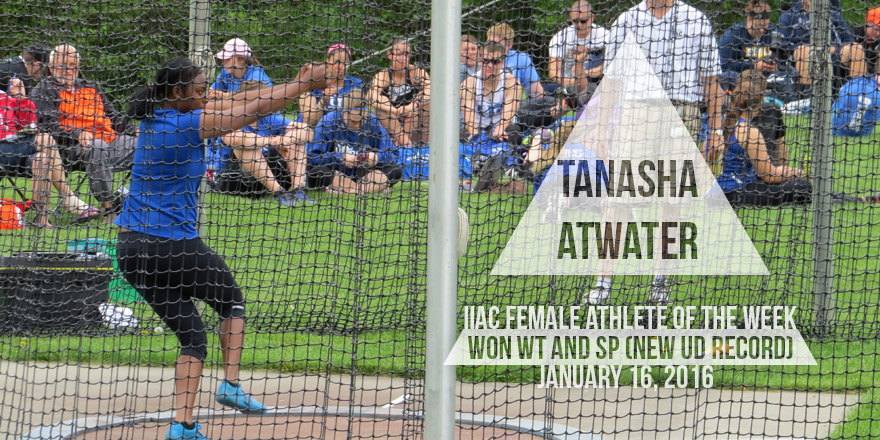 Atwater set a new school record in the shot put at the UD Sol Butler Classic that ranks fourth in Division III in just her second meet of the season.
Official IIAC Release
DUBUQUE, Iowa - Sophomore Tanasha Atwater won both the shot put and the weight throw to lead the University of Dubuque women's track and field team to a runner-up finish at the UD Sol Butler Classic and her first career Iowa Conference Female Athlete of the Week honor.

In UD's first meet of 2016, Atwater posted a shot put mark of 44-6.25 that crushed her previous school record of 42-4.75 set in 2015. The Davenport, Iowa native's current mark ranks fourth in the nation while her winning weight throw toss (48-11) is third-best in the Iowa Conference. Atwater scored 20 of UD's 79.5 total team points on Saturday.

Atwater, a sophomore, is off to a hot start after winning three of four events of the 2016 campaign thanks to her first career victory in the shot put at the Spartan-Duhawk Dual in early December. Atwater is already an All-Iowa Conference performer in the outdoor shot put and just missed out on a second and third honor with a fourth-place showing in both the indoor shot put and the outdoor hammer throw at their respective 2015 Iowa Conference Championships.

Atwater and Co. will travel to the Monmouth Midwest Invite in Monmouth, Ill. this Saturday, January 23 at 11:00 a.m.