Baseball's Complete Performance Leads to Sweep of Central on Senior Day
Apr 29, 2016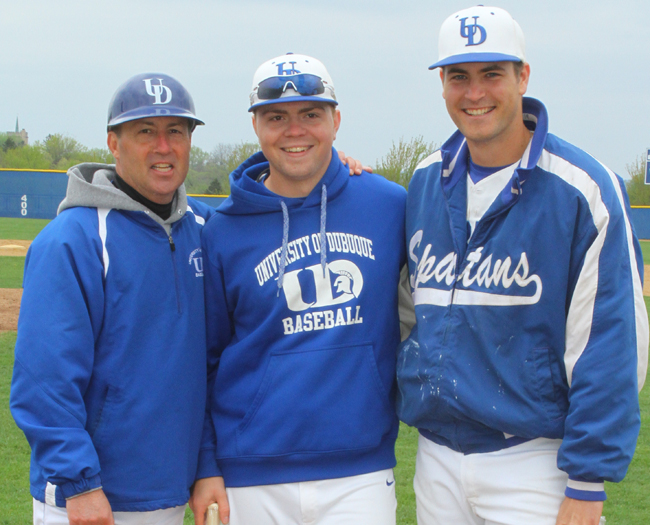 DUBUQUE, Iowa – Senior Tyler Trifiletti earned a 4.0-inning save, the Spartans totaled 23 hits, and starting junior Reed Stumpf tossed his sixth complete game of the season as the University of Dubuque baseball team beat Central, 6-2, and, 9-2 on Friday's Senior Day.

Trifiletti sealed the deal on Senior Day and was honored between games with fellow senior, starting righthander Daniel Karnick.

Game One
UD wins 6-2 (7 inn.)
Stumpf Shuts Down Central Bats

Reed Stumpf (6-3) threw his Iowa Conference-leading sixth complete game in a 7.0 inning victory over Central (8-26, 5-17 Iowa Conference). The right-hander allowed just six hits, two runs (one earned), while striking out six.

The offense kept Stumpf comfortable after totaling 12 hits, including 10 in the first three innings, and scoring five runs thanks to a two-spot in the first and a three-run flurry in the third.

The heart of the order delivered with hitters three through five, CF Austin McWhite, C Will Doherty, and DH Thomas Kempf, combining to go 6-for-10 with three runs and four RBIs.

Game Two
UD wins 9-2 (9 inn.)
Trifiletti Delivers on Senior Day

Trifiletti earned his first save of the season after throwing four innings of shutout ball and allowing two hits with three strikeouts to close out game two victory, 9-2, as the Spartans (17-17, 10-12 Iowa Conference) inched closer to their first Iowa Conference tournament berth since 2005.

Five of the Spartans' nine runs were unearned thanks to five Dutch errors as UD took advantage with 11 total hits. It was only the second time in Iowa Conference play that UD has racked up double-digit hits in back-to-back games.

Four RBI-singles punctuated a four-run, fifth-inning to give the Spartans the decisive 8-2 lead.

UD starter Doug Van Dyke (4-3), the reigning Iowa Conference Male Athlete of the Week, won his third straight start after going 5.0 innings while allowing two earned runs and six hits.

Kempf led UD at the dish after finishing 2-for-4 with one run and two RBIs.

The Spartans are 8-2 in their final 10 against the Dutch and will face them on Sunday, May 1 in Dubuque for a final doubleheader to complete the series. UD is currently tied for fourth-place in the Iowa Conference with six games remaining. The Top-6 qualify for the tournament.