Brinker's 41-Point Explosion Not Enough in Defeat
Jan 27, 2016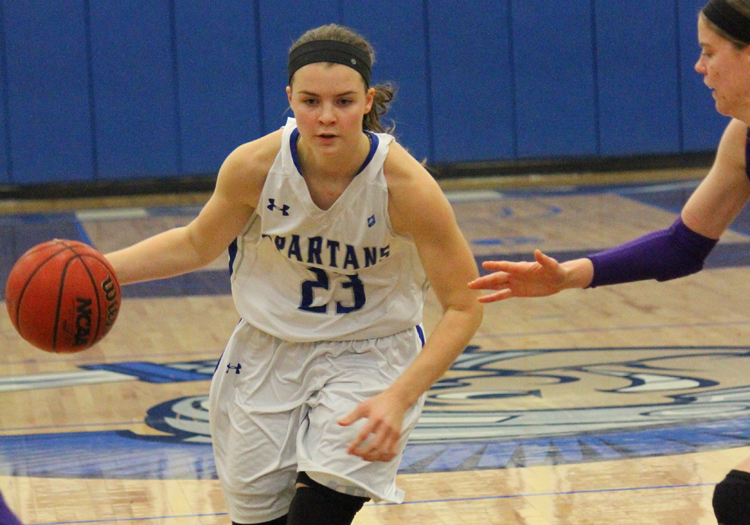 Junior forward Emily Brinker scored a career-high 41 points with 14 rebounds in defeat to Loras on Wednesday night.
BOX SCORE
DUBUQUE, Iowa - Junior Emily Brinker scored the University of Dubuque women's basketball team's last 10 points of regulation, including a buzzer beating fadeaway to go to overtime, en route to a career-high 41 points, but the Spartans fell short, 80-74, to the Duhawks on Wednesday night.

When the lights turned on, Brinker shined in front of a crowd of nearly 2,000 as the game was broadcast live on local KCRG 9.2.
Brinker was nearly unguardable most of the night while unleashing an array of jumpers, but was brilliant down the stretch for the Spartans (6-12, 1-6 Iowa Conference). Down 58-56 to the Duhawks (13-5, 6-1 Iowa Conference) with 3:12 remaining, Brinker came up clutch and made five of six shots, including the tying jumper off an inbounds play as time expired. Time and again, Brinker kept the Spartans in it as the Spartans last lead of the game came with 5:36 to go in regulation.

Brinker accounted for all 10 points in regulation with a pair of assists and a three-pointer and layup of her own, but the Duhawks forced errant threes and converted their free throws to seal the deal.

The Baraboo, Wis. native finished a career-best 17 of 28 from the floor (60.7%) with 41 points and a game-high 14 rebounds. Brinker's 41 points are an Iowa Conference season-best, 10 more than Emily Dine's 31-point showing from Central. Brinker was six points shy of a school record, 47-point, single-game performance by Felicia Payne in 1978.

UD was outrebounded 58-32, despite limiting the Iowa Conference's leading rebounder Loras' Lori Obendorf, to 15 minutes of playing time due to foul trouble. The junior fouled out in the fourth, but was a thorn in the Spartans side after collecting 13 points and 14 rebounds.

Senior Molly Richardson came off the bench and was the other double-digit scorer for UD with 10 points on 3 of 10 shooting. Loras was led by four double-digit scorers, including Terese McMahon who registered 18 points.

The Spartans bid for their fourth straight win over Loras was thwarted as UD dropped to 26-51 in the all-time series. Loras and UD will meet again soon on Saturday, February 6.

UD will face Simpson at home this Saturday, January 30 at 2:00 p.m. The Storm (11-7, 4-3 Iowa Conference) beat their chief rival, Central, 65-54, at home Wednesday night.