Five in a Row for Spartans in Key City Clash
Nov 1, 2015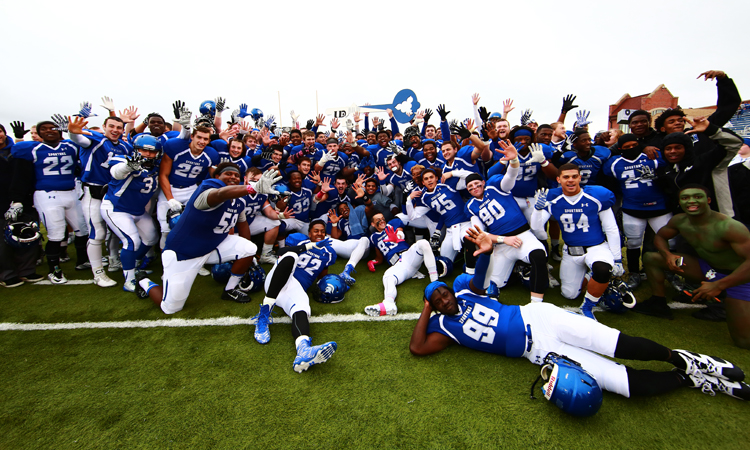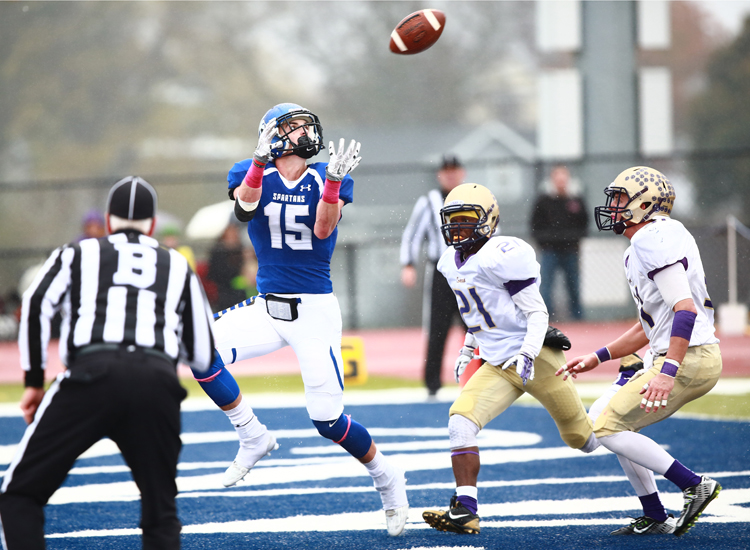 DUBUQUE, Iowa - The University of Dubuque football team improved to 5-0 in the Iowa Conference on Saturday with a dominating 42-7 victory over the Loras College Duhawks on Chalmers Field in the annual Key City Clash. The key to the city remains with the Spartans for another year.
Loras entered the day with the national leading offense in Division III, the Spartans defense stepped up once again and showcased what they have done the past six games by stopping their opponents. The Spartans controlled the possession game by having the ball for 42:57 as Loras was held to a slim 17:03. UD kept Loras to less than 100 yards of offense in the first half and 218 total yards in the game. The Spartans pounded the game on the ground for 253 yards while holding the Duhawks to 44 yards. UD's ground game opened up the aerial assault by Rio Johnson who was 24-34 for 330 yards and three touchdowns.
Maurece "Mo" Herrion could not be tackled by the Duhawks as he rushed 28 times for 170 yards with no losses for an average of 6.1 yards a carry. Teammate Dai-Von Vance-Jenkins rushed 13 times for 73 yards and both running backs were a showstring tackle away from breaking open a couple of long touchdown runs in the victory.
Chris Bagley (#15 pictured above) grabbed 11 of Johnson's throws for 186 yards and three touchdowns to lead the receiving corps. Both special teams would struggle in the wet conditions with UD missing a 27 yard field goal and the Duhawks missing from 36 yards. Loras would fumble three times and UD fumbled once.
Trevor Stauner led the Spartans defense with nine tackles, Blaine Snitker finished with seven, and Oscar White and Derek Trotter each had five. White had three pass break-ups and a forced fumble as well.
In the spirit of sportsmanship and mutual respect, and in a desire to give back to our local community and what it means to be faith-based institutions the The University of Dubuque and Loras College contribute a portion of the gate receipts from this annual event to a non-profit organization. It is with appreciation to our players, fans, and the Dubuque Community that Presidents Dr. Jeffrey Bullock and Jim Collins present this year's support to The Dubuque Dream Center – a center built on Dr. King's dream of transforming communities by embracing, empowering, and unifying those who live there.
UD (6-2 overall, 5-0 in IIAC) will travel to Cedar Rapids next week to face the Coe College Kohawks (3-5 overall, 2-3 in IIAC). Coe beat Luther College 44-22 on Saturday, so next week both teams enter on wins.