Hernandez and Basierak Named UD October Student Athletes of the Month
Nov 13, 2015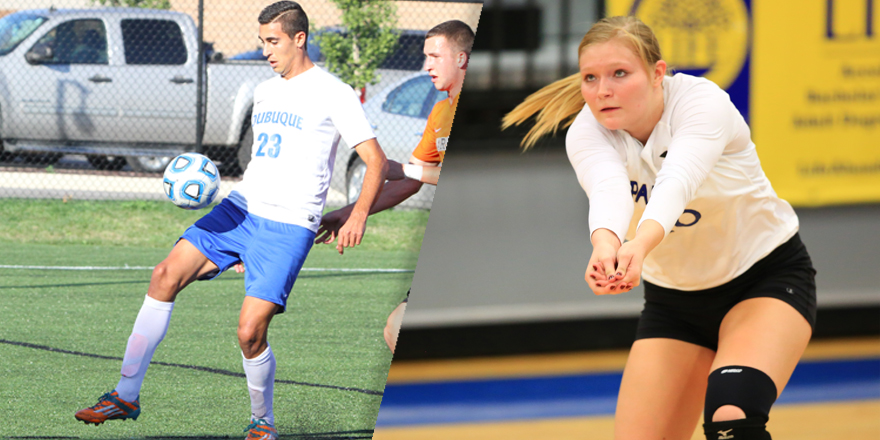 DUBUQUE, Iowa - Junior forward Gonzalo Hernandez Cascante scored in six of eight October games to guide the men's soccer team to the No. 2 seed in the IIAC Tournament and volleyball's outside hitter Klaudia Basierak led the Spartans to their best record since 2007 as both were named the University of Dubuque's October Student Athletes of the Month.

Hernandez tallied 18 points with six goals and six assists in the month of October as the Spartans finished 5-3. The Madrid, Spain native found the back of the net in all five of their wins and a narrow 3-2 defeat to Top-10 UW-Whitewater on October 21. The eventual Iowa Conference Offensive MVP also dished out two assists in win over Central and three assists in victory over Buena Vista. Hernandez's efforts allowed Spartans to maintain NSCAA and NCAA Regional ranking throughout the month.

Hernandez and the Spartans suffered defeat in their first ever Iowa Conference title game on the road on November 6.

The 2014 Academic All-IIAC award winner also received his first career CoSIDA Academic All-District honor.

Basierak tore down the UD record books by becoming the first four-time All-IIAC honoree in school history. The senior finished with 254 kills, a .216 hitting percentage, and 126 digs to lead the Spartans to an 8-8 record in October en route to a 17-18 overall record, their best since 2007. Along the way, Basierak totaled 12 kills in sweep of Rockford on October 8 to mov into second-place all-time in school history with 1638 kills. The Hainesville, Ill. native also put up a career-high 29 kills in epic, five-set comeback victory over Buena Vista on October 21.

Basierak and the Spartans were knocked out of the first round of the IIAC Tournament on November 3.

The two-time Academic All-Iowa Conference honoree was also named CoSIDA Academic All-District for the second time.