Jensen's Shutouts and Hernandez's Hat Trick Lead to Men's Soccer IIAC Awards
Sep 29, 2015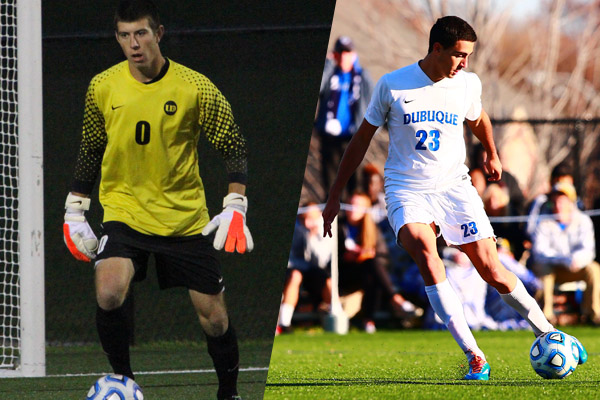 Goalkeeper Riley Jensen (left) and forward Gonzalo Hernandez (right)
IIAC release
DUBUQUE, Iowa – Senior goalkeeper Riley Jensen recorded his second and third career shutouts while junior forward Gonzalo Hernandez racked up his first career hat trick to earn Iowa Conference Defensive and Offensive Men's Soccer Players of the Week, respectively, as the University of Dubuque men's soccer team defeated Elmhurst College (Ill.) and Wartburg this past week.

Jensen earned his second career IIAC Defensive Player of the Week award after collecting four saves in 3-0 win over Elmhurst last Tuesday and six saves in a hard fought 2-0 victory over Wartburg on Saturday. Jensen and the Spartan defense shut out an offensive-minded Wartburg team that scored 18 goals in eight non-conference games this season. It was the first time Jensen has earned back-to-back shutouts in his career and added to his shutout over Monmouth College last September.

Over eight games this season, the 2014 All-Iowa Conference First Team Goalkeeper has a record of 4-2-1 with 30 saves and a goals against average of 0.95. Both of his losses have come against a pair of regionally ranked teams (NSCAA North Region) in No. 4 North Park, 3-1, and No. 5 Milwaukee School of Engineering, 2-1, in overtime.

Hernandez netted three goals in a span of 22 minutes in the second half to lift the Spartans to victory over Elmhurst, 3-0. Efficiency was the name of the game after all four of his shots were on goal in the win. It was his first career hat trick and gave him an IIAC-leading six goals and 14 points this season. The junior attempted one shot in 2-0 win over Wartburg on Saturday.

It was the 2014 All-IIAC First Team Forward's second IIAC honor of the year after winning the award on September 6. Hernandez scored one goal in each of his first three games and eight points to win the honor. He now has four career Iowa Conference Offensive Player of the Week awards.

The Madrid, Spain native majors in business.