Johnson Tosses Four Touchdowns En Route to IIAC Athlete of Week
Nov 18, 2015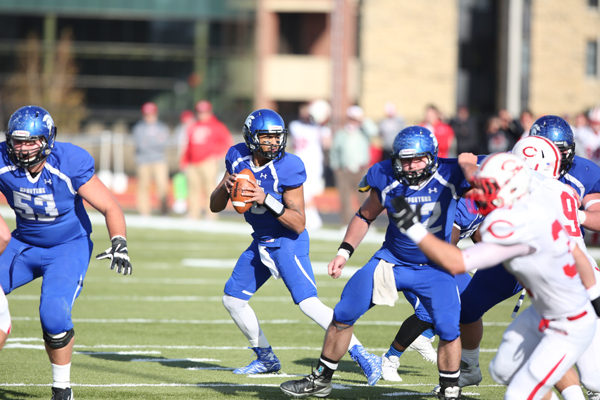 Johnson finished 22 of 26 (84.6%) for 295 yards and 4 touchdowns in win over Central last Saturday.
Official IIAC Release
DUBUQUE, Iowa - Spartan quarterback Rio Johnson was named the Iowa Conference's Male Athlete of the Week after leading the University of Dubuque football team to their first undefeated finish (7-0) in Iowa Conference play since 1979 thanks to his four touchdowns with 295 yards and only four incompletions in 38-16 win over Central last Saturday.

The junior transfer from Atlanta, Ga. completed 22 of 26 passes and helped the Spartan offense produce 500+ yards for the second time, all in the last three games. Johnson threw touchdowns to four different receivers in Trenton Grana-Curry, Dylan Schultz, Chris Bagley, and Najee Toomer.

Johnson passed for over 280 yards for the fourth time, all in the last five games. The first-year Spartan has compiled 625 yards on 46-of-60 (76.7%) with seven touchdowns and no interceptions in the previous two games against Loras and Central. After throwing three interceptions combined in the first three games, Johnson has gotten better as the season progressed with only two picks in the final seven games.

This is his first career honor and as he becomes the fourth Spartan to be recognized this season.

Johnson majors in communication.