Martinez and Joers Named to All-IIAC Women's Tennis Teams
Oct 26, 2015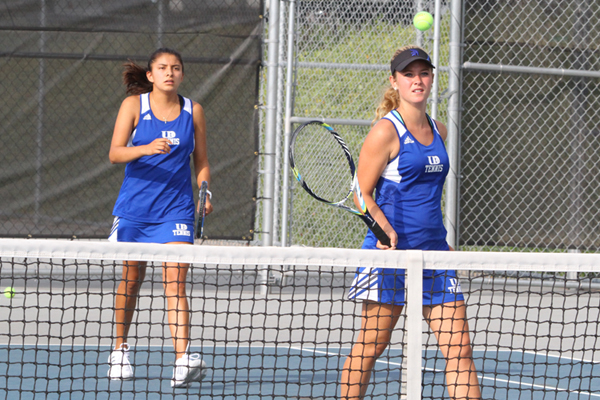 Sophomore Arantxa Martinez (left) and freshman Marissa Joers (right) received All-Iowa Conference recognition for their efforts this past fall.
IIAC Release
DUBUQUE, Iowa - The University of Dubuque women's tennis team were represented by sophomore Arantxa Martinez, who earned All-Iowa Conference singles honors for the second straight year, and freshman Marissa Joers, who claimed All-IIAC doubles accolades with Martinez.

Marissa Joers captured the Spartans third Iowa Conference Flight C Singles Championship in the last five years and Martinez finished runner-up for the second straight year in Flight A as the University of Dubuque women's tennis team placed 7th overall in the Iowa Conference.

Joers, backing up Martinez at No. 2 singles, finished with a 7-8 record in singles (including 4-0 in the IIAC Tournament), and teamed up with Martinez at No. 1 doubles for a 7-8 record. The pair fell to Luther in round one of the IIAC Tournament.

Marissa has definitely made a statement in our conference with these recognitions as a true freshman," said Graduate Assistant Dishon Deering, who coached the team while Head Coach Claudio Giraldi was away on military obligations. "I'm excited to see her career progress at a high level, she put in a lot of hard work this season with a positive attitude and it all paid off."
Martinez, the 2014 All-Iowa Conference Singles selection, claimed the number two seed in Flight A thanks to a 12-3 singles record, including 6-1 in the Iowa Conference. Deja vu struck again after Martinez dispatched of the No. 1 seed from Coe, 7-5, 6-4, in their only regular season matchup on September 9, but fell in the Flight A Iowa Conference Championship match, 3-6, 6-7 (4-7). It was a repeat result from 2014 as the two will continue to battle it out for the next two years. The sophomore beat a Coe opponent in the quarter- and semi-finals to reach the Flight A Championship bout.
With her 12 singles wins and seven doubles victories in 2015, Martinez moved into second in career singles wins (28), fourth in career doubles wins (19), and third in career overall wins (47). The San Luis Potosi, Mexico native also collected her second career Iowa Conference Women's Tennis Player of the Week award on September 13.

"I'm glad to see Martinez continuing her winning ways across the conference," added Deering. "She is still a force to be reckoned with in the whole conference and everyone has that respect for her. These accolades by these two are setting the standard for our team and give us excitement for the seasons to come!"

Joers, Martinez, and the rest of the Spartans will resume play with a handful of meets this upcoming spring.