McWhite Headlines Spartans Trio of All-IIAC Selections
May 17, 2016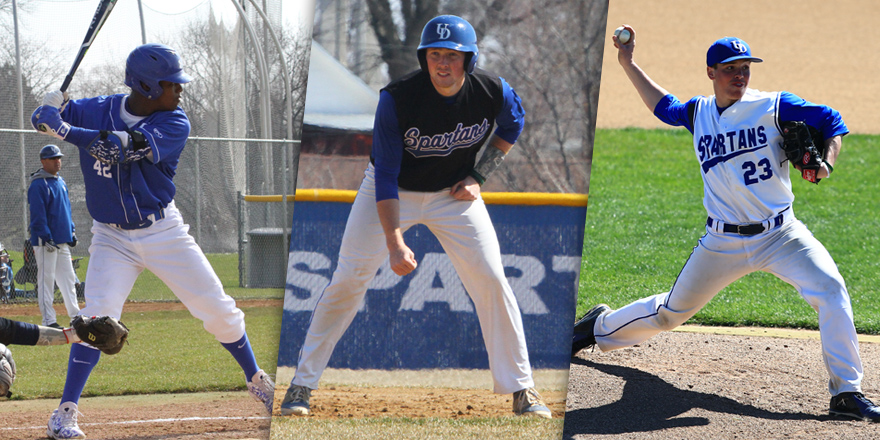 Centerfielder Austin McWhite, third baseman Dalton Garst, and starting pitcher Reed Stumpf were named to the All-Iowa Conference baseball team.
Official IIAC release
UD IIAC Complete Stats
DUBUQUE, Iowa – Versatile centerfielder Austin McWhite earned First Team All-Iowa Conference honors while third baseman Dalton Garst and starting pitcher Reed Stumpf were tabbed Second-Team honorees in the University of Dubuque baseball team's first Iowa Conference tournament berth since 2005.

The Spartans posted a 19-23 record, their best since 2005, and their 12 Iowa Conference wins equaled their highest total since 1995.
The aforementioned trio played key roles during Iowa Conference play with McWhite pacing the team in eight categories, including batting average (.367), Garst starting all 28 games with a team-high 100 at-bats, and Stumpf boasting a 5-2 record with five complete games. It was the third time in the last four seasons the Spartans have had at least three All-IIAC award winners.

Primarily a center fielder, McWhite could do it all and was named to the First Team as a utility player. The junior finished Top-6 in the IIAC in on-base percentage (.463) and stolen bases (7) while also leading the team in batting average (.367), runs (22), triples (1), home runs (3), total bases (48), walks (12), strikeouts (17), and slugging percentage (.608).

The first-time All-IIAC honoree opened up IIAC play with an eight-game hitting streak that included five doubles and eight RBIs. McWhite's hit 2-for-5 with two runs, three RBIs, and two home runs in 8-4 come-from-behind win on the road at Loras on April 19. UD's best power threat hit homers in back-to-back at-bats in the eighth and ninth to help turn a 4-2 deficit into a four-run victory.

One of three players to start all 28 games for the Spartans, Garst hit .310/.389/.360 to earn his second-straight All-IIAC distinction after First-Team a season ago. The junior hit safely in his final eight games (six regular season, two IIAC tourney), including a pair of three-hit games with one home run in the IIAC tournament.

A two-way threat, Garst tossed 10.1 innings with an ERA of 6.10 and a record of 1-1. The Winnebago, Ill. native earned his lone win against Simpson after going 7.1 innings and allowing three earned runs.

A complete-game machine, Stumpf went the distance five times and finished sixth in innings pitched (43.1). The junior also tied for third with five wins and seven games started. Stumpf started 4-0 and threw 7.0+ innings in his first four starts against Coe, Simpson, Loras, and Wartburg, respectively.

Stumpf finished with 26 strikeouts to 11 walks in IIAC play and his overall season win total of six fell one short of the school record.

The trifecta will be back next season in search of their first 20-win season since 1995 and back-to-back IIAC tournament berths.