Men's Basketball Lead Iowa Conference by One Game
Jan 30, 2016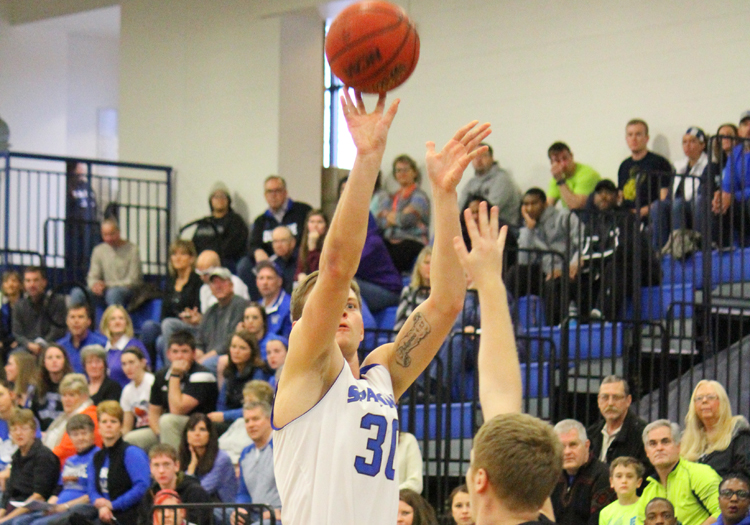 UD's Mitch Morrisey finished with four points as he helped the Spartans to a game lead in the Iowa Conference Standings.
DUBUQUE, Iowa - The University of Dubuque men's basketball team started the afternoon tied with Simpson College atop the Iowa Conference standings, at the end of the night the Spartans would grab a one game lead after a 74-60 win over the Storm.
A one game lead doesn't mean much as the Spartans face a tough upcoming road week when they travel across the state to face the Buena Vista University Beavers in Storm Lake, Iowa on Wednesday, Feb. 3 and a re-match at Loras on Feb. 6. A forecasted winter storm could alter the schedule, but the two strong apponents who typically play well in front of their home fans will be waiting. Buena Vista (8-11 overall, 3-5 in IIAC) lost at Wartburg on Saturday 60-88. The Duhawks (10-9 overall, 5-3 in IIAC) beat Luther at home 84-61.
Reigning IIAC MVP Andre Norris continued to show the league he's still a threat in his senior season. Norris midway through the IIAC season led in both scoring and rebounding. On Saturday, against the Storm he finished with a quiet 24 points and 17 rebounds to end the week scoring 58 points and collecting 32 rebounds. Jacob Mohlis finished with 14 points, and Jake Weber had 12 points.

"We played really well in the second half and our defense was the difference tonight," Head Coach Robbie Sieverding said. "We were not real sharp on the offensive end but made just enough plays in the second half. Andre had another great game and it was good to see Jake Mohlis step up in the second half and hit some big shots for us."
UD held the lead for over 29 minutes and led by as much as 16 points, but the Storm never stopped hustling as they sliced the lead to single digits in the final minutes. The Storm are tied with Loras for second place in the IIAC with 5-3 records.

"Next up we are on the road at BV which is always a tough place to play," Coach Sieverding said. "We will once again need to be locked in on the defensive end because they are very good in transition."
UD's final six games in Iowa Conference action are:
at Buena Vista University on Feb. 3
at Loras College on Feb. 6
vs. Coe College on Feb. 10
at Luther College on Feb. 13
at Wartburg on Feb. 17
vs. Central College on Feb. 20