Men's Golf Shoot Lowest Score of IIAC Tournament
Apr 30, 2016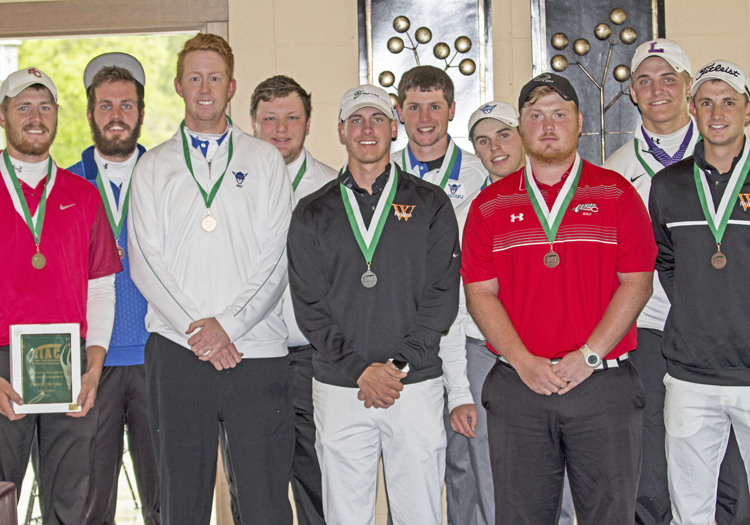 2016 Men's All-Iowa Conference Performers
DECORAH, Iowa - The University of Dubuque men's golf team unleashed the lowest round of the 2016 Iowa Conference Championships in the final round, a low of 294. The round was sparked by UD's All-Iowa Conference performer Cameron Shere who shot the lowest score of the tournament, a 70 in the final round.
The Luther College Men's Golf team held off a late surge from Wartburg to earn the programs 10th Iowa Conference Men's Golf Championship. The Norse shot 1,215 over the course of four rounds to beat Wartburg by five strokes. Simpson's Trent Lindenman won the individual title by 10 shots with a tournament total of 291 (+3) to earn Most Valuable Player honors. Scott Fjelstul of Luther was named Iowa Conference Coach of the Year for an IIAC record ninth time.
Trent Lindenman led a group of ten to earn All-Iowa Conference honors. Wartburg's Tanner Randall and Luther's Elliot Horsttied for second with Randall winning the tie breaker after three holes. There was a four-way tie for fourth place betweenWalker Adams of Central, Michael Canfield of Wartburg, and Cameron Shere of Dubuque. Adams won the tie breaker with Canfield in two holes. Shere was eliminated after the first hole. Shere shot the lowest round of the championships with a 70 on Saturday. Hunter Giesselmann of Wartburg finished with a 303 for seventh place. Luther's Peter Kephart was eighth at 306. Joe Fewer of Luther won the tie breaker versus Peter Leinenweber of Loras to break the nine/tenth place tie.
MVP: Trent Lindenman (SIM)
COY: Scott Fjelstol (LUT)

T.Randall (WAR) def E.Horst (LUT) on the 3rd hole in 2-3 tie breaker
W.Adams (CEN) def M.Canfield (WAR) and def. C.Shere (DBQ) in 4-5-6 tie breaker
J.Fewer (LUT) def P.Leinenweber (LOR) on 1st hole. in 9-10 tie breaker
Luther College 300 302 301 312 1215 +63 1st
Elliot Horst 74 72 78 77 301 +13 t-2nd
Peter Kephart 79 74 75 78 306 +18 8th
Joe Fewer 77 77 74 81 309 +21 t-9th
Andrew Betts 73 79 81 77 310 +22 t-11th
Adam Turner 76 82 74 80 312 +24 t-14th
Wartburg College 309 308 304 299 1220 +68 2nd
Tanner Randall 75 77 78 71 301 +13 t-2nd
Michael Canfield 75 78 77 72 302 +14 t-4th
Hunter Giesselmann 77 76 74 76 303 +15 7th
Matt Mummelthei 82 77 75 80 314 +26 t-17th
Joe Zittergruen# dnc dnc 80 80
Chris Stauffer 88 85 dnc dnc
Simpson College 315 307 304 304 1230 +78 3rd
Trent Lindenman 74 72 73 72 291 +3 1st
Nathan Molstead 79 83 76 74 312 +24 t-14th
Nick Hartman 81 78 77 78 314 +26 t-17th
Shaan Desai 83 76 78 80 317 +29 t-23rd
Korbin Sesker 81 81 78 81 321 +33 t-27th
Central College 301 318 305 308 1232 +80 4th
Walker Adams 73 80 73 76 302 +14 t-4th
Jared Nepomuceno 75 83 75 77 310 +22 t-11th
Chris Beaubien 75 80 80 76 311 +23 13th
Kacie Broeg 78 78 77 79 312 +24 t-14th
Nash Bucher 79 80 80 79 318 +30 25th
Dubuque, Univ. of 315 316 310 294 1235 +83 5th
Cameron Shere 77 77 78 70 302 +14 t-4th
Troy Krueger 79 80 75 81 315 +27 t-19th
Chance Manternach 86 81 78 71 316 +28 t-21st
Anders Haukoos 80 78 79 80 317 +29 t-23rd
Tyler Engelken 79 84 85 73 321 +33 t-27th
Loras College 324 324 310 321 1279 +127 6th
Peter Leinenweber 76 76 79 78 309 +21 t-9th
Riley Till 79 81 76 80 316 +28 t-21st
Jason Beer 86 83 76 83 328 +40 31st
Will Arndt 83 84 83 80 330 +42 32nd
Logan Bahl 87 84 79 86 336 +48 35th
Coe College 337 324 319 324 1304 +152 7th
Hunter Livermore 80 75 79 81 315 +27 t-19th
Jason Gingrich 85 81 78 80 324 +36 29th
Anthony Worden 89 83 82 77 331 +43 t-33rd
Wade Hill 86 85 81 88 340 +52 36th
Seth Inman 86 89 81 86 342 +54 37th
Buena Vista University 346 326 322 325 1319 +167 8th
John Bral 82 75 81 81 319 +31 26th
Devin Grossnickle 83 82 76 86 327 +39 30th
Sam Pulkrabek 88 82 81 80 331 +43 t-33rd
Logan Madren 93 99 88 78 358 +70 38th
Logan Krause 101 87 84 95 367 +79 39th