Men's Soccer Downs Wartburg in Physical Bout
Sep 26, 2015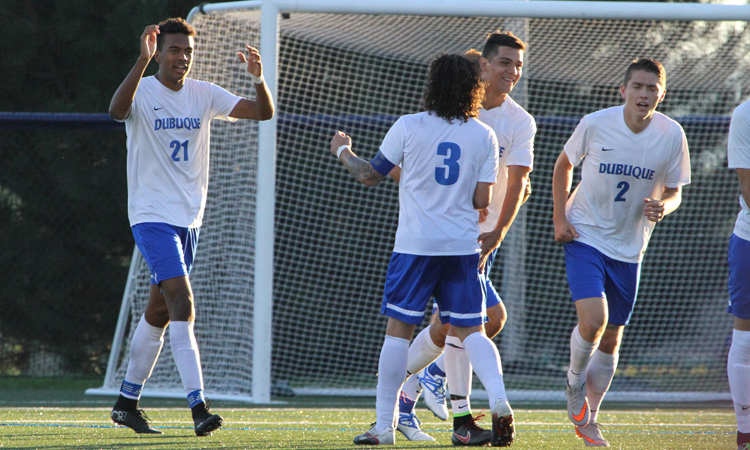 Malcolm Phillips (21), senior captain Jake Fahrenkrug (3), and Danny Daniels (2) celebrate Daniels penalty kick goal with 29 seconds to go in the first half against Wartburg on Saturday afternoon.

BOX SCORE
DUBUQUE, Iowa - The University of Dubuque men's soccer team took down Wartburg, 2-0, in a physical slugfest that featured six yellow cards and a littany of fouls in both teams Iowa Conference opener on Saturday afternoon.

Both teams wanted to win and it showed in what has turned into a competitive rivalry. It's been a mixed bag for both sides after settling for a 1-1-1 record in the last three meetings.

The Spartans (5-2-1, 1-0 Iowa Conference) utilized unlikely sources in defender Danny Daniels and freshman Skylar Showalter to outduel the No. 10 ranked team in the North Region by the NSCAA. Daniels notched his second career goal with 29 seconds to go in the first half, via a penalty kick after a Wartburg foul along the edge of the 18-yard box during a jump ball. The 1-0 lead would hold true until Showalter came off the bench and took advantage of a crucial mistake by a Wartburg defender in the 76th minute.

Showalter streaked down the middle after an outlet pass and benefited from the Wartburg defender chipping it over his goalie's head in an attempt to keep Showalter away from the ball. The Cedar Rapids, Iowa native stayed with it and chipped it in to an open goal from a few yards out for his first career score.

Senior goalkeeper Riley Jensen, the 2014 First Team All-Iowa Conference goalkeeper, stood pat after saving six Wartburg shots and withstood a Knight attack that outshot the Spartans, 18-12, on the night. Despite facing an 8-0 deficit in corner kicks against the Knights (5-2-1, 1-0), the Elgin, Ill. native anchored a Spartan defense that shut out a Wartburg offense that racked up 18 goals in their first eight games.

Offensively, the Iowa Conference's leading goal scorer, UD junior Gonzalo Hernandez, was held to one shot on the night, but was targeted numerous times on long outlet passes throughout the game.

The rivalry has turned into a physical battle after totaling five yellow cards in last year's 1-1 tie. Eleven total yellow cards have been issued in the last two years in an all-time series that stands in favor of Wartburg, 9-6-2.

The Spartans head out for a three-game road trip starting this Wednesday, September 30 at 4:00 p.m. against Monmouth College.