Meyer, Steen Spark Key Run in Defeat of UW-Stout
Dec 8, 2015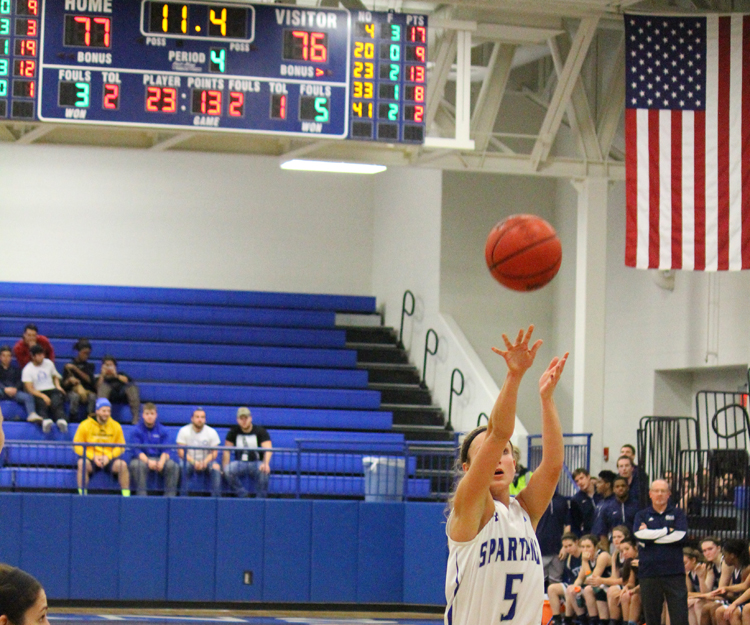 Kara Enos sinks two free throws with under 12 seconds left of the game to help UD beat the UW-Stout Blue Devils 79-76.
BOX SCORE
DUBUQUE, Iowa - A 10-0 run fueled by super sophomores Abbey Meyer and Braanna Steen gave the University of Dubuque women's basketball team the lead for good as the Spartans defeated Head Coach Mark Noll's alma mater, UW-Stout, 79-76, on Tuesday night.

Meyer finished the game with 14 points and six rebounds, while Steen totaled a game-high 19 points and 12 rebounds in the Spartans (3-4) first victory at home. None were more important than Meyer's six points and Steen's four points, all off layups, during the 10-0 run that turned a 65-72 deficit into a 75-72 advantage with over a minute to go.

Meyer's layup put the Spartans up 75-72 with a little over a minute left, but the Blue Devils (3-4) canned a three to tie it up at 75. Junior Emily Brinker and sophomore Kara Enos both made a pair of free throws to ice the game down the stretch.

Brinker was an all-around threat after totaling 11 points, 10 rebounds, and a season-high six assists as Enos added seven points thanks to a 5 of 6 shooting performance at the charity stripe.

Rebounding was also key in the victory after giving up 65 and 75 rebounds, respectively, in their previous two games, a win at UW-La Crosse and loss at UW-Platteville. The Spartans held their own to out-rebound the Blue Devils, 53-49.

UD faced a 35-34 deficit at the half despite a season-best 28 points in the first quarter. The Spartan attack cooled off significantly in the second and totaled just six points to finish 11 of 32 from the field (34.4%) in the entire first half.

The victory over UW-Stout upped Coach Noll's record to 2-2, including UD's second straight victory over his alma mater. Assistant coach Kelsey Steinhagen was also a former All-American and two-time WIAC player of the year for the Blue Devils after graduating in 2009.

The Spartans take on No. 10 Wheaton (Ill.) this Friday, December 11 at 6:00 p.m. in Stoltz. The Thunder (5-1) suffered their only loss at home against No. 6 Hope College, 68-49.