Norris Becomes Spartans All-Time Leading Scorer
Feb 25, 2016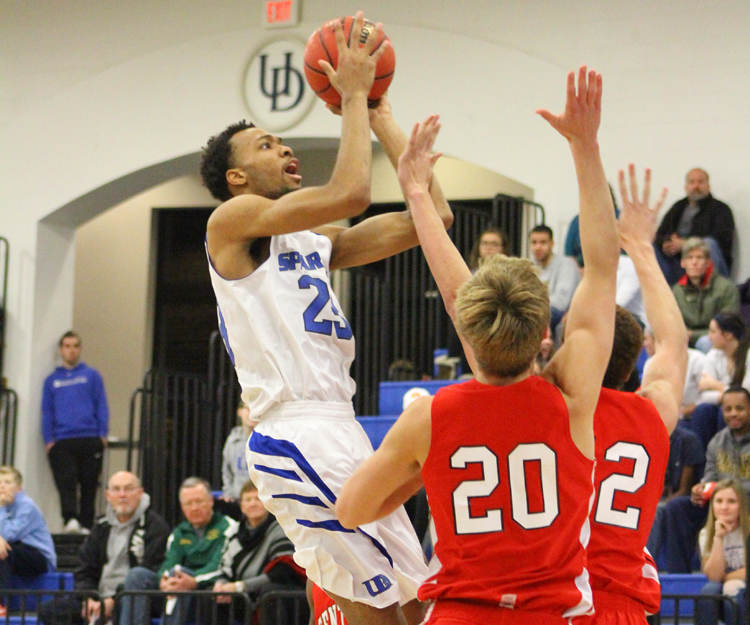 Senior Andre Norris led Spartans with 37 points, tying his record for points in a game in Thursday's loss in the IIAC Tournament semifinals.
DUBUQUE, Iowa - The University of Dubuque men's basketball team witnessed the end of a stellar career for senior forward, Andre Norris on Thursday night. Norris became the Spartans All-Time leading scorer with 1,936 points after finishing with 37 points. The #1-seeded Spartans were bounced out of the Iowa Conference Tournament Semifinals with a loss 61-72 to the Central Dutch. He broke a 30 year-old University of Dubuque career scoring record held by Tim Lundquist at 1,928 points.

"Andre ended his career with maybe his best game of his career and I can't say enough about what he has meant for our program," said Head Coach Robbie Sieverding. "He passed Tim Lundquist and became the all time leading scorer here at UD and helped earn three championships here at UD during his career. I will miss our four seniors and can't thank them enough for the different ways in which they have impacted our program. Spencer Cooper, Mitch Morrisey, Alex Vogel and Andre Norris all brought something different to the table and they just finished an unbelievable four-year run here at UD."
The two squads met for a third time, with each team claiming the home game during the regular season. The Spartans trailed the Dutch at halftime 27-28. Central led 25:14 and the host Spartans held the lead for 11:17 and game was tied for just 3:29. Central gained their biggest lead of 11 points in the game in the final two minutes. UD led by seven points midway through the opening half.
This night belonged to Norris who tied his career high of 37 points to lead all-scorers. He accounted for 11 of the team's 20 made baskets and 61% of the team's points. He improved every season with the Spartans to become the IIAC MVP in 2015 while helping the Spartans to a school record 23 wins. Norris along with senior teammates, Alex Vogel, Spencer Cooper, and Mitch Morrisey have left their mark on the Spartan Men's Basketball record book. This group of seniors are proud to have won two IIAC Tournament Titles, played in two NCAA Tournament games, and being the first Spartan men's basketball team since 1990 to win an Iowa Conference regular season championship. They have set a mark for the most wins in the IIAC the past four seasons for coach Robbie Sieverding.
"It's tough to end our season the way we did," commented coach Robbie Sieverding. "We're a much better team than what we showed our fans tonight. It's disappointing to end this way, but we didn't play up to the level we are capable of and Central out played us tonight and they deserved to win. This group of seniors have done everything we have asked of them and I love them all."
The Spartans starters and bench couldn't buy a basket on Thursday and frustration from the lack of an offense pushed the Spartans to commit 31 fouls while the Dutch were called for just 15. Central sank 20-36 free throw attempts as both teams struggled to connect on the long ball combining to make 11-43 three point attempts.
The Dutch will continue on and travel to face the Wartburg College Knights in the IIAC Tournament Championship on Saturday, Feb. 27.