Norris Named D3hoops.com West Region Player of the Year
Mar 14, 2016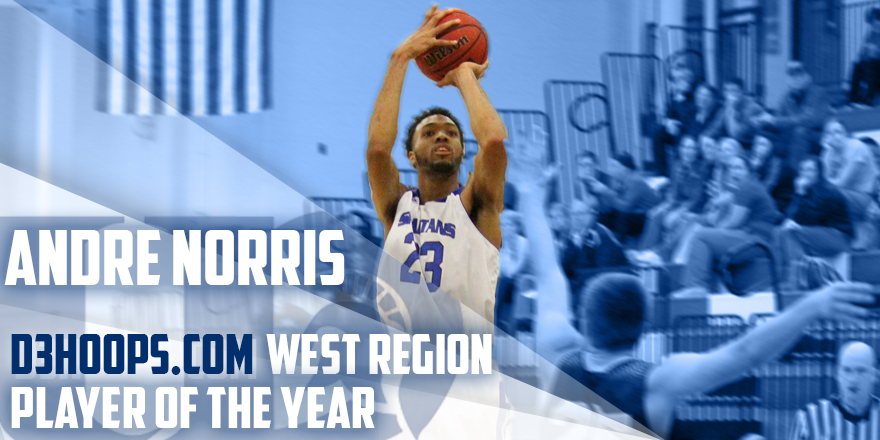 Senior forward Andre Norris was named UD's first-ever D3hoops.com Region Player of the Year after a record-breaking season.
Official D3hoops.com Release
2016 UD Basketball Stats
DUBUQUE, Iowa – Senior Andre Norris brought home his second career D3hoops.com All-Region honor after being named 2016 West Region Player of the Year.

The Iowa Conference's back-to-back MVP was named player of the year in a region that featured nearly 50 teams, mainly across the Midwest and containing schools from conferences including the Iowa Intercollegiate (IIAC), Minnesota Intercollegiate (MIAC), and the Northwest (NWC).

Norris became UD's all-time leading scorer with 1936 points and averaged 23.6 points and 12.0 rpg, including a nation-leading 11.12 defensive rebounds per game, a year after he earned First Team All-West Region accolades in 2015. The senior collected three D3hoops.com National Team of the Week honors this season and has been named to the National Team four times in his career.
With the All-Region selection, Norris is automatically nominated for D3hoops.com's All-American honors, set to be released as the men's Division III NCAA tournament nears its conclusion. Norris was a D3hoops.com Honorable Mention All-American last season.

The Plainfield, Ill. native is the first Spartan to be named Region Player of the Year and its fourth back-to-back Iowa Conference MVP award winner.