Norris Named IIAC Athlete of Week and to D3Hoops.com Team of the Week
Feb 2, 2016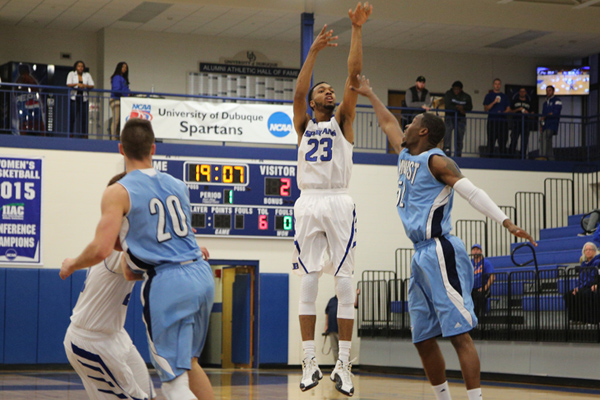 Norris claimed his third career D3Hoops.com team of the week honor after leading UD to sole possession of first-place in the Iowa Conference.
IIAC Release
D3Hoops.com Release
DUBUQUE, Iowa – Senior forward Andre Norris was named Iowa Conference Male Basketball Performer of the Week for the ninth time and to the D3Hoops.com Team of the Week for the third time after averaging 29.0 points and 16.0 rebounds in a pair of wins on the week ending January 31.

Norris was nearly unstoppable after posting 24 points on 10 of 13 shooting in the first half against Loras on Wednesday night. The senior finished 14-for-18 from the field with a game-high 34 points and 15 boards in the 81-66 win in a battle for first-place atop the Iowa Conference. Norris would follow it up with a 7 of 14 shooting performance en route to 24 points and 17 boards in 74-60 win over Simpson on Saturday.

The Plainfield, Ill. native's stellar play elevated the Spartans to sole possession of first-place in the Iowa Conference with six games remaining.

"Andre had an unbelievable week for our team and really took over a couple of games for us," said Head Coach Robbie Sieverding. "He has rebounded the ball so well for us this season and many people see his scoring, but he impacts the game just as much on the defensive end."

During Iowa Conference play (eight games), Norris leads the Iowa Conference in rebounding (11.3 rpg), minutes played (35.6 mpg) and ranks second in scoring (23.8 ppg), and field goal percentage (59.0%).

On the entire season, Norris has racked up 14 double-doubles, five 30+ point games, and 10 20+ point games, all-IIAC highs.

The D3Hoops.com preseason All-American leads the nation in defensive rebounds per game (11.32 rpg) and ranks Top-5 nationally in rebounds per game (12.3), total rebounds (233), and double-doubles (12).

Norris now has a total of 1,775 career points and sits just 152 away from the all-time record of 1927 points. The three-time All-IIAC selection and reigning IIAC MVP must average more than 25 ppg over the last six IIAC games to break the record.

Norris majors in business.