Norris Named a Clarence "Bevo" Francis Award Top-50
Feb 15, 2016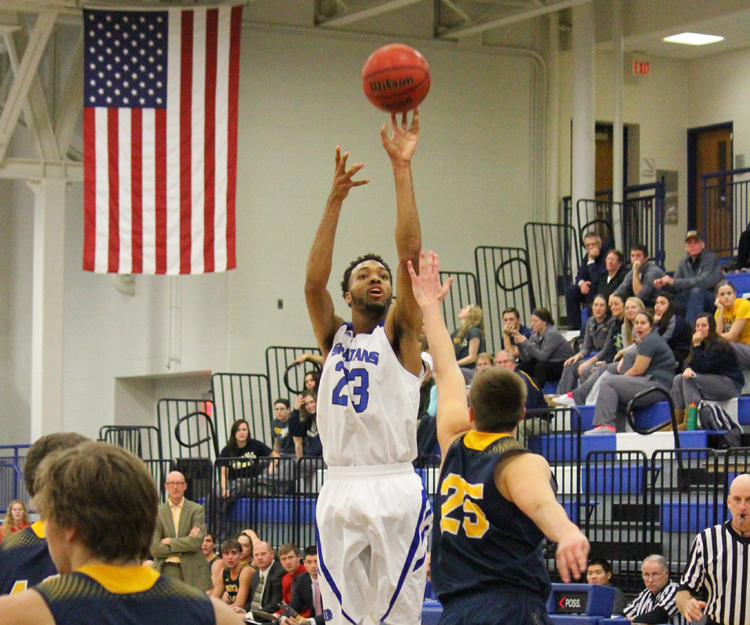 BALDWIN CITY, Kan. - Small College Basketball announced its watch list for the Bevo Francis Award consisting of 50 of the finest men's basketball players in the country who compete in the affiliations of NCAA Division II, NCAA Division III, NAIA Division I, NAIA Division II, USCAA and NCCAA on Monday morning. The University of Dubuque's men's basketball student-athlete, Andre Norris (Sr., forward, 6-7, 185 lbs., Plainfield, Ill., Plainfield Central HS), was named to the Clarence "Bevo" Francis Award Top-50 for 2015-16.
Norris previously was named to the "Top-100" and has now advanced to the "Top-50" of Small College Basketball with the "Top-25 being named on March 15. Norris, the reigning Iowa Intercollegiate Athletic Conference (IIAC) Most Valuable Player, helped the Spartans to the 2015-16 IIAC title on Saturday, Feb. 13. UD claimed the Iowa Conference title with two games left of the conference season after holding a three game lead over second place.
The Clarence "Bevo" Francis Award has been presented annually to the player who has had the finest overall season within Small College Basketball. Considerations will be season statistics and individual achievements, awards, personal character and team achievements. This will be an incredibly prestigious award, as this award will only be given to one player within Small College Basketball per season.
The committee chose this elite group from over 1,100 colleges and universities and took into consideration individual statistics, awards, milestones and team success.
"Congratulations to the 50 players who have made the Bevo Francis Watch List," said SCB Founder, John McCarthy. "This was very, challenging for the committee, as there are many players on very good teams having excellent seasons. This is just so hard."
"This is a very elite list of players that will all be vying for All-American honors at their respective levels, and most of them are expecting deep post-season runs with their teams. The Bevo Francis Award is an individual award, yet team success is also strongly considered."
To view all 50 players on today's Watch List, please click here.
To view a video by SCB Founder John McCarthy announcing the Top 50 Watch List, please click here.
About Bevo Francis
Bevo Francis played at Rio Grande College (now the University of Rio Grande) in Ohio in 1952-53 and 1953-54. When he arrived on campus, the school had 38 male students enrolled in the school and was on the verge of bankruptcy, planning to close its doors at the end of the 1952-53 school year. In the season before Bevo arrived at Rio Grande, the Redmen (now the Red Storm) had gone 4-19.
During his two seasons at Rio Grande, Bevo became the most popular basketball player in the world, and ultimately helped to save the school from bankruptcy. During his first year, the Redmen went 39-0, and Bevo scored 1,954 points and averaged 50.1 points per game. Against Ashland College (KY), Francis scored 116 points, which included 55 points in the final 10 minutes of the game.
Members of the Bevo Francis Award committee include the following coaches and SID: Tobin Anderson - St. Thomas Aquinas (N.Y.), Drew Diener - Rockhurst (Mo.), Gerald Holmes - Bloomfield (N.J.), Gary Stewart - Stevenson (Md.), Ken Ammann - Concordia (Calif.), J.J. Nekoloff - ODAC/NCAA DIII National Championship, Scott McClary - Muhlenberg, Dannton Jackson - Xavier (La.), Arlen Galloway - Wentworth (Mass.), Tony Dominguez- Western Washington, Chris Briggs - Georgetown (Ky.), Bill Dreikosen - Rocky Mountain (Mont.), Patt Cunningham - Trinity (Texas), Klint Pleasant - Rochester (Mich.), Ryan Kane - Ripon (Wisc.), Mike McGrath - University of Chicago.