Norris Nears Record and Murfin Sets Record as Both Named IIAC POW
Feb 9, 2016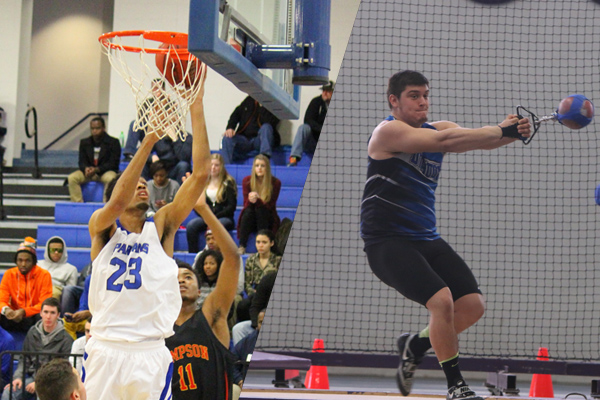 Norris guided the Spartans to a 2-0 week while Murfin broke a 34-year old indoor shot put record at Grinnell Invite.
Official IIAC Release
DUBUQUE, Iowa – Senior Andre Norris averaged 24.5 points and 13.0 rebounds in a pair of wins last week, while freshman Blaze Murfin broke a 34-year old indoor record in winning the shot put at the Grinnell Indoor Invite as both were named their respective sport's Iowa Conference Performer of the Week.

Norris, named to his tenth Iowa Conference Men's Basketball Performer of the Week Award, is averaging an Iowa Conference-high 23.9 points this season and needs just 105 points to break the Spartans all-time scoring mark of 1937 points set back in 1986.

The Plainfield, Ill. native scored 22 points with nine rebounds in 95-83 win at Buena Vista last Wednesday and put up 27 points and 17 boards as the Spartans finished the season sweep at Loras on Saturday. The 2014-15 Iowa Conference MVP currently leads the IIAC in scoring (23.9 ppg) and rebounding (12.2 rpg) while ranking second in field goal percentage (58.0%) and steals (1.8 spg) during IIAC play.

"Andre had another great week of basketball and as good as he was offensively, he was equally as good on the defensive end," said Head Coach Robbie Sieverding. "He is playing at such a high level and has seen just about every kind of defense throughout the season. He is playing not only like the best player in the Iowa Conference but one of the best in all of Division III. We are looking forward to playing at home Wednesday night and would love to see the student section packed come Wednesday! Go Spartans!"

Norris majors in business.

Murfin led the Spartans to a fourth-place finish in a 17-team field after launching the shot put in a record-setting toss of 51'9"/15.77m. The freshmen set a personal record by over two feet and now ranks first in the Iowa Conference and 19th in the NCAA.

The Dallas City, Ill. native also set a personal best in the weight throw (53'8.5"/16.37m) en route to his first career Iowa Conference Men's Track Performer of the Week award.

Murfin majors in Aviation Flight Operations.