Ortiz Dominates Cross Country Field in Loras Invite
Oct 16, 2015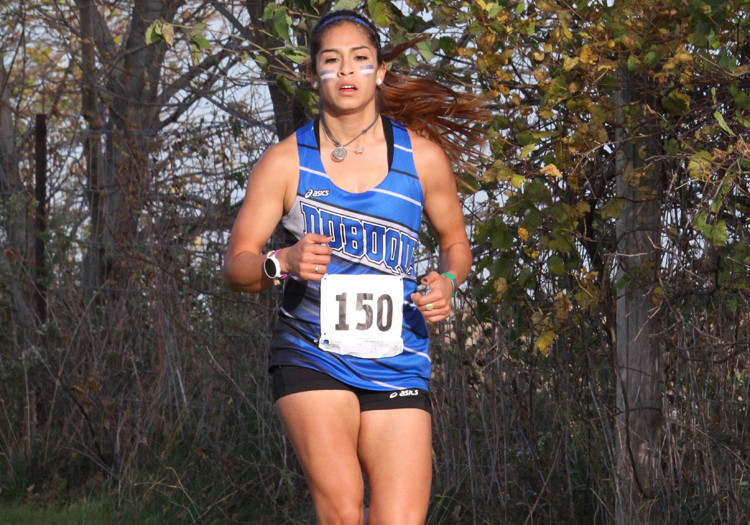 2015 WXC Loras College Invite Results
DUBUQUE, Iowa - The University of Dubuque Fabiola Ortiz cruised to a first place finish in 22:26 and by over 30 seconds over the nearest competitor at the Loras Invite held at Dubuque Soccer Complex. Ortiz helped the Spartans to a fifth place finish overall out of nine teams with 111 points.

Central College cruised to the team title with 32 points in a meet that consisted of four Iowa Conference varsity squads preparing for the Iowa Conference Championships on this same course in two weeks.

The junior won her first official cross country race after finishing runner-up to an unattached runner at Wisconsin Lutheran's Warrior Invitational on October 3. This time she nearly broke her school record set earlier this year of 22:25 in a fourth-place showing at Grinnell's Les Duke Invitational.

Backing up Ortiz was junior Kiersten Wenthold (21st, 25:02), freshman Abigail Ray (23rd, 25:10), sophomore Kayla Kinateder (28th, 25:17), and sophomore Kristin Mackenburg (47th, 26:41). Sophomore Katrina Pagel (73rd, 29:29) finished out the six-runner varsity squad.

The Spartans compete in the Iowa Conference Championships at the Dubuque Soccer Complex (hosted by Loras) on Saturday, October 31 at 11:00 a.m.
Team Results
1. Central College - 32
2. Coe College - 71
3. Clarke University - 102                                               
4. Buena Vista - 103                                                 
5. Univ of Dubuque -  111                                                   
6. NIACC - 153                                                    
7. Loras College JV - 175                                               
8. Scott CC - 209                                                
9. DMACC - 222           


1 #150 Fabiola Ortiz        JR Univ of Dubuque         6:01.3    22:26.8    1   
  2  #67 Holly McKinney       SO Central College         6:11.3    23:04.2    2   
  3  #88 Lucy Conroy          FR Coe College             6:12.7    23:09.5    3   
  4  #75 Lauren Block         FR Clarke University       6:22.6    23:46.4    4   
  5 #123 Jessica Blumberg     FR Niacc                   6:24.4    23:53.0    5   
  6  #66 Evie Kammeyer        SO Central College         6:27.4    24:04.1    6   
  7  #58 Andie Arthofer       JR Central College         6:29.1    24:10.5    7   
  8  #59 Molly Bramble        SR Central College         6:29.4    24:11.6    8   
  9  #73 Kasey Wiedmaier      JR Central College         6:29.9    24:13.5    9   
 10  #55 Katie Puls           FR Buena Vista             6:30.0    24:14.0   10   
 11  #87 Maddie Bain          JR Coe College             6:31.1    24:18.0   11   
 12  #92 Mareena Franke       FR Coe College             6:31.2    24:18.2   12   
 13  #62 Maleaha Earnest      JR Central College         6:32.3    24:22.5   13   
 14  #57 Martina Smith        JR Buena Vista             6:34.6    24:30.9   14   
 15 #119 Carrie Piper         SO Loras College JV        6:35.6    24:34.9   15   
 16  #56 Sybbie Sears         SO Buena Vista             6:37.0    24:39.9   16   
 17  #78 Hayley Einsweiler    FR Clarke University       6:38.0    24:43.6   17   
 18  #61 Kendra Conforti      SO Central College         6:38.0    24:43.9   18   
 19  #69 Caitlin Novak        SO Central College         6:38.6    24:46.1        
 20  #99 Abie Mellick         SO Coe College             6:42.4    25:00.3   19   
 21 #153 Kiersten Wenthold    JR Univ of Dubuque         6:43.1    25:02.8   20   
 22 #114 Michelle Thayer      SO Dmacc                   6:44.5    25:07.8   21   
 23 #152 Abigail Ray          FR Univ of Dubuque         6:45.2    25:10.4   22   
 24  #85 Emily Riesenberg     FR Clarke University       6:45.7    25:12.4   23   
 25  #51 Hannah Appleseth     FR Buena Vista             6:46.1    25:13.8   24   
 26 #124 Alyssa Cowan         SO Niacc                   6:46.2    25:14.3   25   
 27  #98 Samaya Lewis         FR Coe College             6:46.8    25:16.4   26   
 28 #148 Kayla Kinateder      SO Univ of Dubuque         6:47.1    25:17.7   27   
 29  #83 Taylor Luczak        SR Clarke University       6:47.2    25:18.2   28   
 30 #138 Mariah Casey         FR Scott CC                6:47.9    25:20.8   29   
 31  #79 Sydnee Hendricks     SO Clarke University       6:48.1    25:21.4   30   
 32  #77 Kyra DeSchepper      SR Clarke University       6:48.5    25:22.7   31   
 33  #71 Rachel Peter         FR Central College         6:51.5    25:34.1        
 34  #64 Cassidy Gornick      JR Central College         6:53.8    25:42.6        
 35 #111 Shannon Mullnix      SO Dmacc                   6:55.0    25:47.3   32   
 36  #96 Beth Heims           JR Coe College             6:57.0    25:54.5   33   
 37 #125 Lattie Crozier       SO Niacc                   6:57.7    25:57.0   34   
 38 #122 Liz Venezio          FR Loras College JV        6:59.9    26:05.4   35   
 39 #120 Monica Schwartzhoff  FR Loras College JV        7:00.3    26:06.8   36   
 40 #103 Holly Wisnousky      SO Coe College             7:00.4    26:07.2   37   
 41 #100 McKayla Morris       FR Coe College             7:00.7    26:08.4        
 42 #101 Allison Rogers       SR Coe College             7:03.9    26:20.1        
 43  #76 Anna Cole            SO Clarke University       7:04.4    26:22.1   38   
 44  #53 Kennedi Hostetter    FR Buena Vista             7:06.3    26:29.1   39   
 45 #143 Naomi Elias          SO Scott CC                7:06.5    26:30.1   40   
 46  #86 Cassandra Stuflick   JR Clarke University       7:07.1    26:32.1        
 47 #149 Kristin Mackenburg   SO Univ of Dubuque         7:09.5    26:41.3   41   
 48 #117 Nora Gawlik          JR Loras College JV        7:10.9    26:46.5   42   
 49  #95 Jansen Heckenberg    FR Coe College             7:11.1    26:47.0        
 50  #60 Missy Charlton       SO Central College         7:13.5    26:56.0        
 51 #141 Callie Davis         SO Scott CC                7:16.3    27:06.5   43   
 52  #81 Katherine Herrig     JR Clarke University       7:16.4    27:06.8        
 53 #127 Jordan Lane          FR Niacc                   7:19.3    27:17.6   44   
 54 #146 Shiomi Kuwabara      FR Southwestern CC         7:23.6    27:33.6        
 55  #74 Jen Zoutte           SO Central College         7:25.1    27:39.2        
 56  #90 Amanda Donovan       SO Coe College             7:28.5    27:52.0        
 57  #63 Abby Fyfe            SO Central College         7:29.4    27:55.4        
 58 #129 Kendra Schmidt       FR Niacc                   7:30.4    27:59.1   45   
 59  #65 Heidi Heckenberg     SR Central College         7:30.6    27:59.9        
 60 #140 Caitlin Davis        SO Scott CC                7:33.4    28:10.4   46   
 61 #121 Kristi Shogren       SR Loras College JV        7:36.7    28:22.6   47   
 62 #116 Kristin Dryanski     SO Loras College JV        7:37.1    28:24.1   48   
 63  #80 Anna Herber          JR Clarke University       7:39.6    28:33.3        
 64  #54 Erin Morley          JR Buena Vista             7:40.2    28:35.6   49   
 65  #70 Alex Oldham          FR Central College         7:41.9    28:42.1        
 66 #102 Jean Springsteen     FR Coe College             7:42.2    28:43.0        
 67 #104 Natalie Zutter       FR Coe College             7:44.1    28:50.3        
 68  #72 Jackie Piper         SR Central College         7:49.4    29:09.9        
 69 #118 Leta Jaquis          JR Loras College JV        7:51.0    29:15.9   50   
 70 #142 Hannah Durand        SO Scott CC                7:52.3    29:20.8   51   
 71 #126 Taylor Glawe         SO Niacc                   7:52.4    29:21.0   52   
 72  #93 Ella Gibbons         FR Coe College             7:53.4    29:24.7        
 73 #151 Katrina Pagel        SO Univ of Dubuque         7:54.5    29:29.0   53   
 74 #137 Cecilai Adamski      FR Scott CC                7:56.9    29:38.0   54   
 75 #147 Brooke Lindgren      SO Southwestern CC         7:58.1    29:42.5        
 76 #106 Blaire Benshoof      SO Dmacc                   8:00.5    29:51.4   55   
 77 #108 Molly Claman         SO Dmacc                   8:00.6    29:51.7   56   
 78  #84 Katie Marter         JR Clarke University       8:04.1    30:04.8        
 79 #144 Katelynn Ramirez     SO Scott CC                8:05.5    30:09.9   57   
 80 #139 Takora Cuevas        SO Scott CC                8:05.7    30:10.6        
 81 #145 Katrina Robinder     FR Scott CC                8:05.7    30:10.8        
 82 #112 Emma Saddoris        SO Dmacc                   8:06.9    30:15.3   58   
 83  #97 Alyssa Knudson       FR Coe College             8:34.5    31:58.2        
 84 #128 Emma Phipps          FR Niacc                   8:46.5    32:42.8   59   
 85 #131 Jamie Buechner       FR Rockford                8:50.0    32:55.8        
 86  #91 Alex Ermatinger      FR Coe College             9:24.1    35:02.8        
 87 #134 Monica Parsons       SR Rockford                9:44.9    36:20.4        
 88 #132 Megan Hendrickson    FR Rockford                9:47.2    36:28.9        
 89 #105 Kelly Anderson       SO Dmacc                  10:04.4    37:33.1   60   
 90 #107 Kendra Chapman       SO Dmacc                  10:53.4    40:35.7   61