Sharp Shooting Leads to Arthofer's First IIAC POW Honor
Feb 16, 2016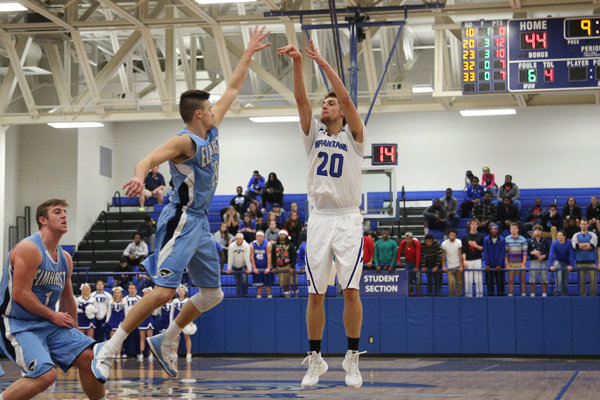 Junior shooting guard Kain Arthofer earned his first career Iowa Conference men's basketball Performer of the Week after averaging 18.5 ppg last week.
Official IIAC Release
DUBUQUE, Iowa – Junior shooting guard Kain Arthofer claimed Iowa Conference men's basketball performer of the week after shooting 7 of 12 with a career-high seven threes in Iowa Conference Championship clinching win last week to help the University of Dubuque men's basketball team secure their first Iowa Conference title since 1990.

The Bettendorf, Iowa native converted a career-high 7 of 9 three-pointers and finished with 22 points in the IIAC title clinching win over Luther, 72-53, on Saturday, February 13. Arthofer preceded that performance with a 15-point, five rebound showing in victory over Coe, 82-75, on Wednesday night. Arthofer averaged 18.5 points and shot 8 of 14 from three-point land in both games.

Winning the IIAC award for the first time in his career, Arthofer has seen a drastic improvement from his sophomore year and has more than tripled his scoring average from 4.6 ppg to 14.8 ppg this season. Arthofer is also averaging career-highs in field goal percentage (47.4%), three-point percentage (40.6%), and three-pointers made (41).
Arthofer has scored in double-digits in 16 of 21 games played and is currently Top-10 in the Iowa Conference in six major categories, including scoring and field-goal percentage.

Arthofer majors in sports marketing and management.