Snitker Named Semifinalist of 2015 Campbell Trophy
Sep 24, 2015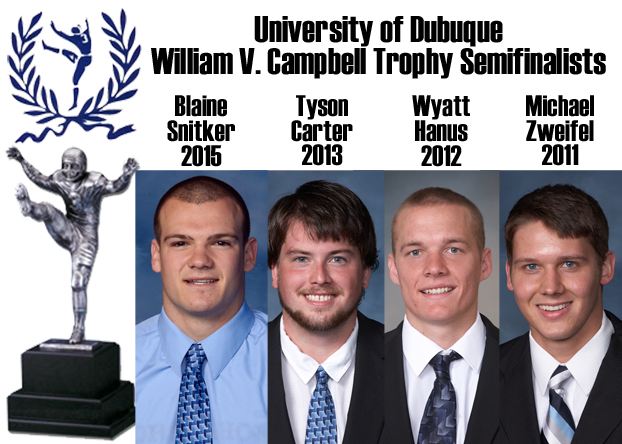 ‌
IRVING, Texas (Sept. 24, 2015) – The University of Dubuque's Blaine Snitker (LB, 6-1, 224, Sr., Waukon, Iowa/Waukon HS) has been named a semifinalist of the coveted 2015 National Football Foundation National Scholar-Athlete Awards, presented by Fidelity Investments. Snitker is one of top 135 nation's top players to vie for a share of the $300,000 in postgraduate scholarships as a candidate for this prestigious honor. He joins three other Spartans to be named a semifinalist, Tyson Carter (2013), Wyatt Hanus (2012) and Michael Zweifel (2011). Zweifel was named a finalist for the Campbell Trophy and used his scholarship to earn a master's degree in kinesiology from the University of Texas-Tyler.
Recognizing one of the most impressive groups of scholar-athletes in the history of college football, The National Football Foundation & College Hall of Fame (NFF) proudly announced today the 135 semifinalists for the 2015 William V. Campbell Trophy, presented by Fidelity Investments® and prominently displayed inside its official home at the New York Athletic Club, which recognizes an individual as the absolute best football scholar-athlete in the nation.

The NFF will announce 15 finalists on Oct. 29, and each of them will receive an $18,000 postgraduate scholarship as a member of the NFF National Scholar-Athlete Class, presented by Fidelity Investments. The finalists will travel to New York City for the 58th NFF Annual Awards Dinner on Dec. 8, where their accomplishments will be highlighted in front of one of the most powerful audiences in all of sports. At the event, one member of the class will be declared in dramatic fashion the winner of the 26th William V. Campbell Trophy and have his postgraduate scholarship increased to $25,000.

"These 135 impressive candidates truly represent the scholar-athlete ideal," said NFF Chairman Archie Manning whose sons Peyton (Campbell Trophy winner) and Eli were named NFF National Scholar-Athletes in 1997 and 2003, respectively. "It is important for us to showcase their success on the football field, in the classroom and in the community. This year's semifinalists further illustrate the power of our great sport in developing the next generation of influential leaders."

Named in honor of Bill Campbell, the chairman of Intuit, former player and head coach at Columbia University and the 2004 recipient of the NFF's Gold Medal, the Campbell Trophy is a 25-pound bronze trophy and increases the amount of the recipient's grant by $7,000 for a total postgraduate scholarship of $25,000. A total distribution of more than $300,000 in scholarships will be awarded at the NFF Annual Awards Dinner, pushing the program's all-time distribution to more than $11 million.

"The NFF would like to personally congratulate each of the nominees as well as their schools and coaches on their tremendous accomplishments," said NFF President & CEO Steve Hatchell. "We are extremely proud to highlight each semifinalist's achievements, showcasing their ability to balance academics and athletics at the highest level. The NFF Awards Committee will have an incredibly difficult task in selecting the finalists from this outstanding group of candidates."

Nominated by their schools, which are limited to one nominee each, candidates for the awards must be a senior or graduate student in their final year of eligibility, have a GPA of at least 3.2 on a 4.0 scale, have outstanding football ability as a first team player or significant contributor and have demonstratedstrong leadership and citizenship. The class is selected each year by the NFF Awards Committee, which is comprised of a nationally recognized group of media, College Football Hall of Famers and athletics administrators.


2015 NFF WILLIAM V. CAMPBELL TROPHY SEMIFINALISTS NOTES
135 Nominations
56th Year of the NFF National Scholar-Athlete Program
3.60 Average GPA
52 Nominees with a 3.7 GPA or Better
83 Team Captains
59 All-Conference Picks
24 Academic All-America Selections
8 All-America Selections
56 Nominees from the NCAA Football Bowl Subdivision (FBS)
23 Nominees from the NCAA Football Championship Subdivision (FCS)
20 Nominees from NCAA Division II
27 Nominees from NCAA Division III
9 Nominees from the NAIA
71 Offensive Players
52 Defensive Players
12 Special Teams Players
Launched in 1959, the NFF National Scholar-Athlete Awards program became the first initiative in history to award postgraduate scholarships based on both a player's academic and athletic accomplishments, and it has recognized 804 outstanding individuals since its inception. The Campbell Trophy, first awarded in 1990, adds to the program's prestige, having previously honored two Rhodes Scholars, a Rhodes Scholar finalist, two Heisman Trophy winners and five first-round NFL draft picks.

In 2011, the NFF and Fidelity launched a multi-year initiative between the two organizations to celebrate the scholar-athlete ideal and a joint commitment to higher education. As part of the initiative, Fidelity became the first presenting sponsor of the NFF National Scholar-Athlete Awards program. In 2014, Fidelity Investments became the presenting sponsor of the Campbell Trophy. Fidelity also helped launch the NFF Faculty Salutes, which recognize the contributions of the faculty athletics representatives at each of the institutions with an NFF National Scholar-Athlete. As part of the initiative, the NFF presents each of the faculty representatives with a plaque, and Fidelity donates $5,000 for the academic support services at each school.

The past recipients of the William V. Campbell Trophy include: Air Force's Chris Howard (1990); Florida'sBrad Culpepper (1991); Colorado's Jim Hansen (1992); Virginia's Thomas Burns (1993); Nebraska'sRob Zatechka (1994); Ohio State's Bobby Hoying (1995); Florida's Danny Wuerffel (1996); Tennessee's Peyton Manning (1997); Georgia's Matt Stinchcomb (1998); Marshall's Chad Pennington(1999); Nebraska's Kyle Vanden Bosch (2000); Miami (Fla.)'s Joaquin Gonzalez (2001); Washington University in St. Louis (Mo.)'s Brandon Roberts (2002); Ohio State's Craig Krenzel (2003); Tennessee'sMichael Munoz (2004); LSU's Rudy Niswanger (2005); Rutgers' Brian Leonard (2006); Texas' Dallas Griffin (2007); California's Alex Mack (2008); Florida's Tim Tebow (2009); Texas' Sam Acho (2010); Army West Point's Andrew Rodriguez (2011); Alabama's Barrett Jones (2012); Penn State's John Urschel (2013); and Duke's David Helton (2014).


2015 NFF National Scholar-Athlete Awards Candidates, presented by Fidelity Investments
FOOTBALL BOWL SUBDIVISION (FBS)
FOOTBALL CHAMPIONSHIP SUBDIVISION (FCS)
DIVISION III

Alabama - Ryan Kelly

Austin Peay - Adam Noble

Albion (Mich.) - Mike Czarnecki

Arizona - Casey Skowron

Brown - Brian Strachan

Albright (Pa.) - Colton Ryan

Arizona State - Mike Bercovici

Bucknell - Matt DelMauro

Amherst (Mass.) - Christopher Gow

Arkansas - Brandon Allen

Campbell - Hunter Somerville

Bethel (Minn.) - Matt Mehlhorn

Army West Point - Matt Giachinta

The Citadel - Brandon Eakins

Bridgewater (Va.) - Sean Douglass

Auburn - Jonathan Wallace

Dartmouth - Ryan McManus

DePauw (Ind.) - Adam Folta

Ball State - Jacob Richard

Dayton - Danny Leach

Dubuque (Iowa) - Blaine Snitker

Baylor - Spencer Drango

Harvard - Cole Toner

Gettysburg (Pa.) - Kodie McNamara

Boise State - Jake Hardee

Holy Cross - Matt Byaha

Grinnell (Iowa) - Jacob Beecher

Bowling Green - Tyler Tate

Idaho State - Cody Sorensen

Johns Hopkins (Md.) - Rowan Cade

Buffalo - Tyler Grassman

Lamar - Logan Moss

Kenyon (Ohio) - Alex Oles

Central Florida - Joey Grant

Marist - John Brennan

Lake Forest (Ill.) - George Vidas

Central Michigan - Nick Beamish

Montana - Derek Crittenden

Lycoming (Pa.) - Ryan Umpleby

Colorado - Nelson Spruce

New Hampshire - Daniel Rowe

Maine Maritime - John Doyon

Duke - Ross Martin

Nicholls State - Michael Henry

Manchester (Ind.) - Logan Haston

Fresno State - Justin Northern

Northern Iowa - Isaac Ales

Massachusetts Instit. of Tech. - Nathan Varady

Georgia - Jake Ganus

Princeton - Matt Arends

Moravian (Pa.) - Anthony Orlando

Georgia Southern - Matt Dobson

Robert Morris - Nick Faraci

Mount Union (Ohio) - Hank Spencer

Georgia State - Nick Arbuckle

Southern Illinois - Mark Iannotti

Ohio Wesleyan - Cameron Pappa

Houston - Logan Piper

Western Carolina - Darius Ramsey

Rochester (N.Y.) - Matthew Mender

Indiana - Nate Sudfeld

William & Mary - Andrew Weidinger

Saint John's (Minn.) - Drake Matuska

Iowa - Jordan Lomax

Yale - Morgan Roberts

St. Thomas (Minn.) - David Simmet

Kansas State - Stanton Weber

Youngstown State - Steve Zaborsky

Washington & Jefferson (Pa.) - Daniel Lis

Kent State - Jordan Italiano

Wisconsin-Oshkosh - Craig Schommer

Kentucky - Landon Foster

Wisconsin-Stout - Collin Laursen

Louisiana-Lafayette - Evan Tatford

DIVISION II

Wisconsin-Whitewater - Joe Worth

Massachusetts - Blake Frohnapfel

Ashland (Ohio) - Jon Cipa

Wooster (Ohio) - Nick Flannery

Memphis - Micah Simmons

Azusa Pacific (Calif.) - Na'im Colbert

Michigan - Desmond Morgan

Bentley (Mass.) - Paul Norris

Michigan State - Jack Allen

Colorado Mesa - Taylor Schultz

NAIA

Middle Tennessee State - Jordan Parker

Colorado State-Pueblo - Jake Ludwick

Bethel (Tenn.) - Josh Wilson

Minnesota - Jon Christenson

East Stroudsburg (Pa.) - Jon Schnaars

Cumberland (Tenn.) - Cayman Russell

Mississippi State - Taveze Calhoun

Eastern New Mexico - Jeremy Buurma

Dakota State (S.D.) - Jason Grady

Navy - E.K. Binns

Ferris State (Mich.) - Jason Vander Laan

Doane (Neb.) - Garrett Borcher

Nevada - Jordan Dobrich

Fort Lewis (Colo.) - Taylor Suta

Faulkner (Ala.) - Elliott Graves

North Carolina State - Joseph Thuney

Harding (Ark.) - Davis Hudson

Kansas Wesleyan - Jacob Curran

North Texas - Jarrod Lynn

Humboldt State (Calif.) - Taylor Mitchell

Morningside (Iowa) - Ethan Stofferan

Notre Dame - Joe Schmidt

Kutztown (Pa.) - Charles Barton

Peru State (Neb.) - Logan Paben

Ohio State - Jacoby Boren

LIU-Post (N.Y.) - Sean Binckes

William Penn (Iowa) - Kramer Patterson

Oklahoma - Ty Darlington

Ohio Dominican - Brandon Schoen

Penn State - Ben Kline

Pittsburg State (Kan.) - Colby Hall

Purdue - Robert Kugler

Southern Arkansas - John Miller

Rice - James Farrimond

Stonehill (Mass.) - Anthony Masucci

Rutgers - Quentin Gause

Tarleton State (Texas) - Robert Hinton

SMU - Andy McCleneghen

Wayne State (Mich.) - Carl Roscoe

Syracuse - Riley Dixon

Wingate (N.C.) - Eric Mapoles

TCU - Jaden Oberkrom

Temple - Kyle Friend

Tulsa - Derrick Luetjen

UCLA - Jake Brendel

Vanderbilt - Steven Scheu

Virginia - Ian Frye

Wake Forest - Hunter Williams

West Virginia - John DePalma

Wisconsin - Derek Watt

Wyoming - Rafe Kiely