Snitker Named a Cliff Harris Award Finalist
Dec 17, 2015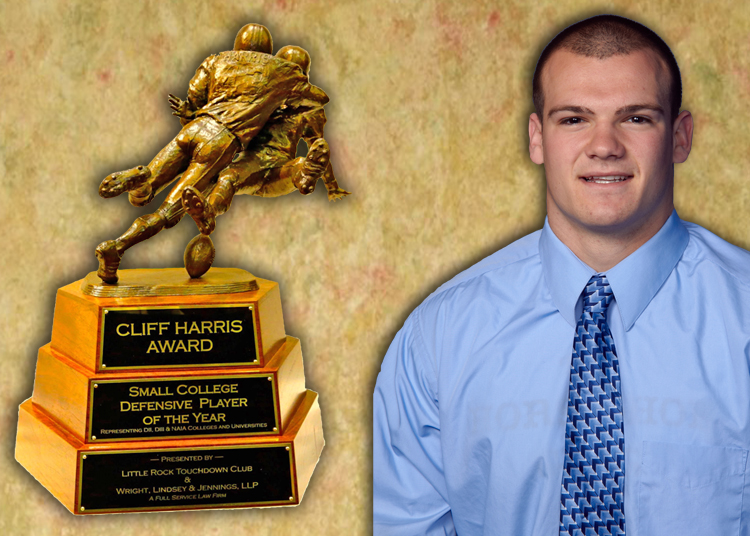 LITTLE ROCK, Ark. - The Little Rock Touchdown Club and Wright, Lindsey & Jennings LLP announced the finalists for the 3rd annual CLIFF HARRIS AWARD. The University of Dubuque's Blaine Snitker (linebacker, 6-1, 224 lbs., Senior, Waukon, Iowa/Waukon HS), and the 2015 IIAC Defensive MVP was named a finalist on Thursday, Dec. 17, 2015.
Snitker battled injuries early in the season, but returned to anchor a Spartan defense which led the IIAC in scoring and total defense during league play. A Third Team, All-West Region by D3Football.com, Snitker finished the season with 54 tackles, 3.5 tackles for loss, and one interception in eight games. The three-time All-IIAC selection had been named IIAC Defensive MVP, IIAC Defensive Performer of the Week, a William V. Campbell trophy national semifinalist, Academic All-IIAC, and First Team CoSIDA Academic All-District for the Spartans.
This award is presented to the nation's top small college defensive player representing more than 5,000 defensive players from almost 500 NCAA Division II, Division III and NAIA colleges and universities. A prestigious selection committee made up of former college and pro football greats will select the winner. In addition to the CLIFF HARRIS AWARD overall winner, the top vote getter from each division will also be announced.
The CLIFF HARRIS AWARD winner will be announced on Dec. 24 and honored at the Little Rock Touchdown Club's annual awards banquet in February 2016. The winner will receive the $3,000 CLIFF HARRIS AWARD trophy presented by Cliff Harris. The inaugural winner of the award in 2013 was Lindenwood University cornerback Pierre Desir now with the Cleveland Browns. The 2014 winner was Darius Allen of Colorado State University-Pueblo.
Read more about Cliff's amazing journey from an overlooked high school player from tiny Des Arc, AR, and one scholarship offer to then NAIA Ouachita Baptist University to five Super Bowls and six Pro Bowls with the Dallas Cowboys.
2015 CLIFF HARRIS AWARD FINALISTS
Player Name
Position
Class
College
Division
Ryan
Aelker
Sr
DL
Bluffton University
DIII
Collin
Bevins
Jr
DE
Northwest Missouri State
DII
Zachary
Blair
Jr
LB
UVa-Wise
DII
D'Vonn
Brown
Jr
DL
Southwest Assemblies of God
NAIA
Erick
Bulter
Sr
DE
Thomas more College
DIII
Braden
Bush
Jr
DB
McPherson College
NAIA
Terry
Calagon
Sr
LB
Alma College
DIII
Clayton
Callicutt
Sr
DE
Angelo State
DII
Marqui
Christian
Sr
DB
Midwestern State University
DII
Andrew
Cohen
Sr
DL
West Chester
DII
Tyler
Condit
Sr
LB
University of New Haven
DII
Aaron
Cooper
Jr
LB
Kentucky Christian University
NAIA
Adam
Dansdill
Sr
LB
Wheaton
DIII
Dylan
Delk
Sr
DE
Tabor College
NAIA
Darren
Dungee
Sr
LB
Rowan University
DIII
Javier
Dyer
So
DE
Reinhardt University
NAIA
Morgan
Fox
Sr
DE
Colorado State-Pueblo
DII
Logan
Genz
Sr
LB
Arkansas Tech
DII
Joshua
Gordon
Sr
DE
Minnesota State University, Mankato
DII
Connor
Harris
Jr
LB
Lindenwood University
DII
Jordan
Herdman
Jr
LB
Simon Fraserr
DII
Alex
Hoff
Sr
DE
Linfield College
DIII
Nick
Holshoe
Jr
DB
Concordia University
NAIA
Austin
Jacques
Sr
LB
Johnson C. Smith University
DII
Shaneil
Jenkins
Sr
DE
Shepherd University
DII
Nathan
Jernigan
Jr
LB
Cumberland (Tenn.) University
NAIA
Brandon
Jones
Sr
DL
Widener University
DIII
Michael
Jordan
Sr
CB
Missouri Western State University
DII
Matt
Judon
Sr
DE
Grand Valley State
DII
Brian
Khoury
Jr
DE
Carnegie Mellon University
DIII
Kyle
Kitchens
So
LB
Catawba College
DII
Tyke
Kozeal
Jr
LB
University of Nebraska at Kearney
DII
Ben
Kullos
Sr
LB
Dakota State (S.D.)
NAIA
Tom
Lally
Sr
DE
Mount Union
DIII
Frank
Laterza
Sr
DB
St. Norbert College
DIII
Brock
Long
Sr
LB
Fort Hayes State
DII
Marcus
Martin
So
DE
Slippery Rock University
DII
Brad
McCurdy
Sr
DB
Ohio Dominican University
DII
Nate
Moore
Jr
DB
College of Idaho
NAIA
Max
Nacewicz
Sr
LB
Springfield College
DIII
Jewell
Ratliff
Sr
LB
Tuskegee University
DII
Andre
Reyes
Sr
LB
Briar Cliff University
NAIA
Joe
Rizzardi
Sr
SS
US Coast Guard Academy
DIII
Andrew
Robinson
Sr
DE
UW-Platteville
DIII
JJ
Sanders
Sr
DL
Florida Tech
DII
Adam
Sauder
Sr
DB
Taylor University
NAIA
Zac
Schleuger
Sr
LB
Morningside College
NAIA
Jordan
Shaw
Sr
DB
Shorter University
DII
Teidrick
Smith
Jr
DE
University of Mary Hardin-Baylor
DIII
Tim
Smith
Jr
DL
St. Francis (IL)
NAIA
Blaine
Snitker
Sr
LB
Univ. of Dubuque
DIII
Solomon
St. Pierre
Sr
CB
University of Sioux Falls
DII
Carlos
Thomas
So
DB
Johnson C. Smith University
DII
Julian
Turner
Jr
LB
Trinity University
DIII
Sam
Van Ginkel
Jr
DE
Northwestern (Iowa) College
NAIA
Bryant
Wade
Sr
LB
Husson University
DIII
Alex
Wahl
Sr
LB
Upper Iowa University
DII
D'Gary
Wallace
Sr
LB
Urbana University
DII
Reno
Ward
Jr
DL
Montana Western
NAIA
Anthony
White
Sr
DB
Huntingdon College
DIII
Joel
Wimbley
Sr
LB
Saint Joseph's College
DII
Nick
Woodman
Sr
DE
Utica College
DIII
Justin
Zimmer
Sr
DT
Ferris State University
DII