Snitker's Career-High 21 Tackles in Season Debut Leads to IIAC Honor
Oct 7, 2015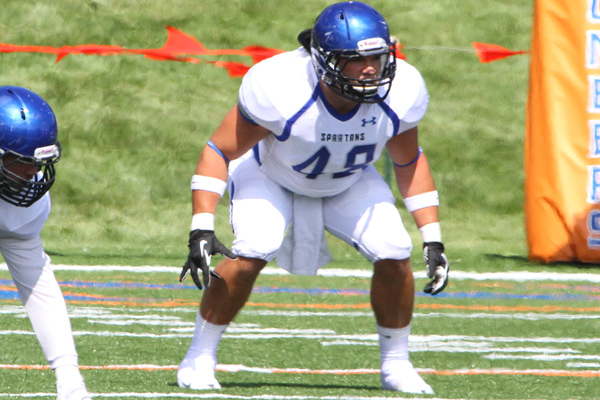 Senior LB Blaine Snitker in last year's game at UW-Platteville.
IIAC Release
DUBUQUE, Iowa - After sitting out the first three games of the season due to injury, senior linebacker Blaine Snitker debuted with a purpose after racking up a career-high 21 tackles in 16-14 win over Luther to capture Iowa Conference Male Athlete of the Week.

The Waukon, Iowa native led an active Spartan defense that limited Luther's triple-option offense to a season-low 231 rushing yards last Saturday. Snitker, a 2014 and 2013 Iowa Conference First-Team Defensive selection, contained the Norse with a career-high 21 tackles that included four solo stops. The senior nearly broke a 21-year old Spartans' single-game record of 25 tackles posted by Stacie Richardson against Simpson in 1994.

Snitker's 21 tackles gave him 250 total for his career, good for seventh on UD's all-time career tackles list. The senior trails Jason Gordon, who sits in sixth-place with 285 tackles.

It was Snitker's second career Iowa Conference honor after being named the Iowa Conference football's Defensive Player of the Week on October 7, 2013. Snitker has also been honored as one of 135 semifinalists from all divisions for the 2015 William V. Campbell Trophy presented by the National Football Foundation. He is one of 27 Division III nominees and the fourth semifinalist in UD's history for an award that recognizes the best football scholar-athlete in the nation. Snitker is vying for one of 15 finalists spots announced on October 29th that will receive an $18,000 postgraduate scholarship.

The two-time Academic All-Iowa Conference selection majors in mathematics.

Snitker and Co. will head to Simpson this Saturday, October 10 at 1:00 p.m. The Storm (2-2) defeated Buena Vista, 43-13, a week ago and celebrate their homecoming this weekend.