Spartans Bennett, Rosenburg, and Collier Place 2nd at North Central Invite
Dec 12, 2015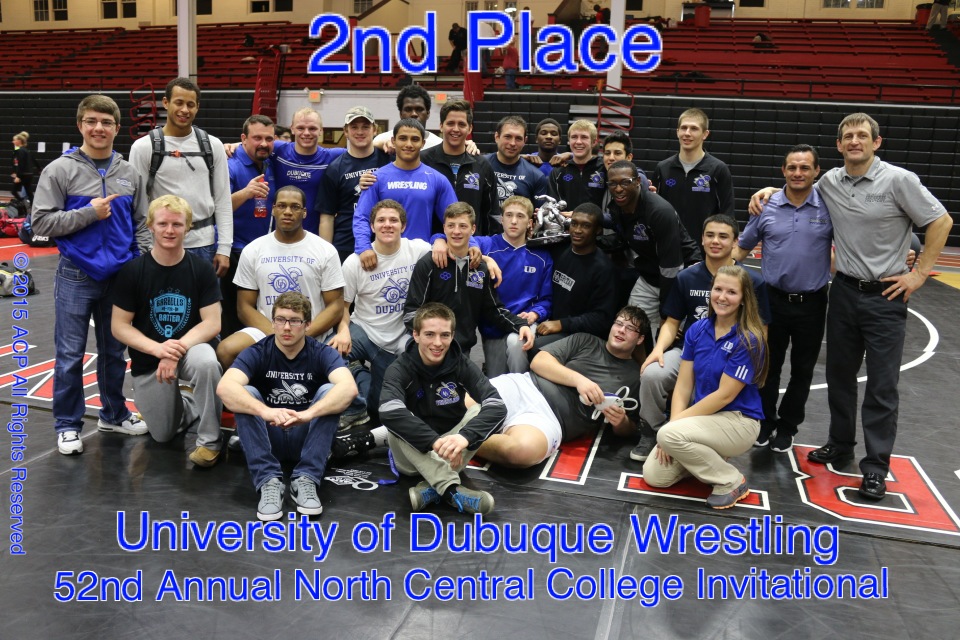 NAPERVILLE, Ill. - The University of Dubuque wrestlng team earned 11 placewinners and finished second with 178.5 points at the at the 2015 North Central College Invitational. Teams competing included Adrian College, Augustana College, Millikin College, Milwaukee School of Engineering, North Central College, Olivet College, #9-ranked Wabash College, and Wheaton College.
2015 North Central Wrestling Invitational Final Results
125 - Jared Bennett - 2nd place, lost in finals 6-11 to Chris Diaz of Wabash
125 - Julio Chavez 5th place
133 - Stephen Rosenburg - 2nd place lost in finals to Brendan Gould of Augustana 0-1.
141 - Jeremy Melendez beat teammate Donovan Luckett for third place by a fall in 2:41, Luckett placed fourth.
149 - Adrian Collier placed second after losing to North Central's Ben Williamson in the finals by a score of 2-1.
157 - Alex Aragon placed 6th
165 - John Denikas placed 6th
174 - Elton Turnage placed third after beating North Central's Eric Kirkman 4-3 after two tie breaks.
184 - Ethan Soderstrom placed fourth after losing to North Central's Tanner Van Dalsen 2-1 after a tie break.
197 - Sharrod Wilson placed third after taking victory over Ethan Benoit of Augustana 9-2.
285 - Sawyer McAffrey placed fifth with a win over Jake Barclay of Wabash by a score of 5-2.
2015 NCC Wrestling Tournament Placewinners:
125
1 #2-Chris Diaz (Wabash) D 11-6
2 #5-Jared Bennett (Dubuque)
3 #1-Jimmy Panozzo (Augustana) D 3-2
4 #4-AJ Belden (Wabash)
5 Julio Chavez (Dubuque) F M FOR
6 #3-Miguel Silva (NCC)
133
1 #1-Brendan Gould (Augustana) D 1-0
2 #2-Stephen Rosenburg (Dubuque)
3 #3-Joe Dombrowski (Adrian) D 8-2
4 #4-Casey McWhirter (NCC)
5 #6-Bryce Fitzgerald (MSOE) F M FOR
6 Brad Martens (NCC)
141
1 #1-Layten Binion (NCC) D 7-5
2 #2-Michael Venezia (Wabash)
3 #3-Jeremy Melendez (Dubuque) F 2:41
4 Donovan Luckett (Dubuque)
5 #5-Aaron Ward (Adrian) F M FOR
6 Griffin Schermer (Wabash)
149
1 #3-Ben Williamson (NCC) D 2-1
2 #1-Adrian Collier (Dubuque)
3 #2-Devin Broukal (Wabash) F M FOR
4 Zach Boren (Wabash)
5 #5-Dan Shear (Adrian) D 8-6
6 Matt Sears (Augustana)
157
1 #2-Nick Bova (Wabash) D 2-1;TB
2 #1-Josh Tardy (NCC)
3 #3-Jared Fekete (Wheaton) F 3:28
4 #7-Chanc Ravish (Wabash)
5 #4-David Tessiatore (Augustana) D 9-4
6 #8-Alek Aragon (Dubuque)
165
1 #2-Connor Brummett (Wabash) M 12-4
2 #1-Donny Mandell (Adrian)
3 #4-Trace Timmons (Augustana) D 7-2
4 #5-Tyler Grimsley (Olivet)
5 Nick Torres (Augustana) D 8-6
6 #3-John Denikas (Dubuque)
174
1 #1-Ethan Farmer (Wabash) F 4:09
2 #3-Alex Bowers (Augustana)
3 #4-Elton Turnage (Dubuque) D 4-3;TB
4 #2-Eric Kirkman (NCC)
5 Caleb Odell (Wheaton) F 4:37
6 Grant Gough (Wabash)
184
1 #1-Riley Lefever (Wabash) F 0:42
2 #3-James Davis (Adrian)
3 Tanner Van Dalsen (NCC) D 2-1;TB
4 #5-Ethan Soderstrom (Dubuque)
5 #6-Logan Walkup (Wheaton) F M FOR
6 #2-Thomas Reyhons (Augustana)
197
1 #1-Angus Arthur (Adrian) D 4-2
2 #2-Christos Giatras (Augustana)
3 #4-Sharrod Wilson (Dubuque) D 9-2
4 Ethan Benoit (Augustana)
5 #3-Brett Thumm (Wabash) F M FOR
6 James Ford (NCC)
285
1 #1-Jack Seaman (Augustana) F 6:55
2 #2-Emonte Logan (NCC)
3 Max Gierke (Wheaton) D 8-2
4 Youssef El Sayed (Olivet)
5 Sawyer McAffrey (Dubuque) D 5-2
6 #3-Jake Barclay (Wabash)
National Wrestling Coaches Association (NWCA) Team Rankings:
Ranking #3 December 8, 2015
1. Wartburg College (IA) (4 – 0) 1
2. Ithaca College (NY) (2 – 1) 13
3. Augsburg College (MN) (4 – 0) 10
4. University of Wisconsin – La Crosse (3 – 1) 5
5. Roger Williams University (RI) (5 - 0) 2
6. Alma College (MI) (5 – 0) 20
7. Messiah College (PA) (4 – 1) 3
8. Cornell College (IA) (5 – 3) 19
9. Wabash College (IN) (2 – 0) 9
10. Coe College (IA) (2 – 0) 11
11. The College of New Jersey (2 – 0) 6
12. Stevens Institute of Technology (NJ) (4 – 1) 12
13. Central College (IA) (1 – 1) 25
14. Johnson & Wales University (RI) (1 – 0) 17
15. Williams College (MA) (0 – 0) 18
16. Baldwin Wallace College (OH) (4 – 3) 14
17. Luther College (IA) (1 – 1) 8
18. University of Wisconsin – Whitewater (1 – 4) 7
19. Concordia College – Moorhead (MI) (6 – 0) 24
20. SUNY Cortland (NY) (0 – 0) 4
21. Ferrum College (VA) (5 – 0) NR
22. University of Mount Union (OH) (3 – 3) 15
23. York College (PA) (4 – 5) 16
24. Wilkes University (PA) (5 – 2) 22
25. New York University (4 – 1) 21
26. University of Wisconsin – Stevens Point (2 – 3) NR
27. Delaware Valley College (PA) (0 – 2) 27
28. Springfield College (MA) (1 – 2) NR
29. John Carroll University (OH) (1 – 4) NR
30. Worcester Polytechnic Institute (MA) (2 – 0) NR
Ranking Committee: Kevin Bratland (US Coast Guard Academy), Mike Howard (Oswego State), Corey Luce (New York University), Jon Laudenslager (Wilkes University), Eric Keller (Wartburg College), Matt Nagel (Concordia College - Moorhead), Joe Norton (North Central College) Next Ranking: Monday, January 4, 2016