Spartans and Duhawks to Duke It Out on KCRG 9.2
Jan 26, 2016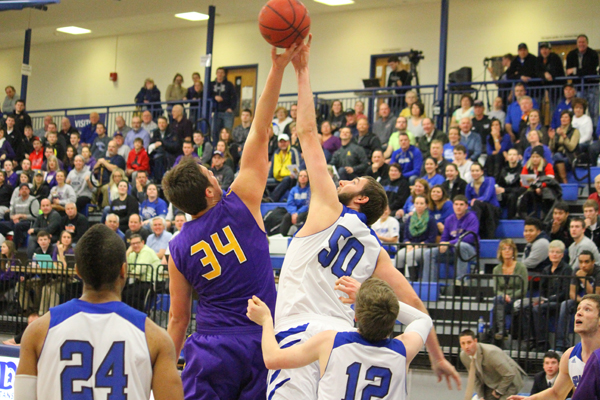 Both Spartan men and women swept the Duhawks during the 2014-15 season.
LIVE STREAM
DUBUQUE, Iowa - The University of Dubuque men's and women's basketball teams host rival Loras on Wednesday, January 27 for the teams' first meeting of the season and it will be broadcast live on local KCRG 9.2.

This will be the first game and sport aired live throughout eastern Iowa on KCRG 9.2 for the Spartans this season. It will also be live streamed on KCRG.com. The women's basketball game will tip-off at 6:00 p.m., followed shortly thereafter by the men's game.

UD-LORAS WOMEN'S PREVIEW
The Spartans (5-11, 1-5 IIAC) hope to keep rolling after claiming their first victory of the season thanks to stellar defense on the road last Saturday at Coe. UD junior forward Emily Brinker scored 16+ points for the third time in the last four games to go with nine rebounds. After getting swept by UD last season, the Duhawks, who lead the league in shooting and rebounding, look to turn things around and come in with a three-game winning streak.

Scouting Loras
Player to Watch: Loras' Lori Obendorf
Obendorf, the reigning IIAC Female Athlete of the Week, is the only player in the IIAC averaging a double-double during IIAC play (10.0 ppg and 11.2 rpg) and leads the conference in blocked shots (3.8 bpg). The 6-2 junior has yet to attempt a three-pointer this season and posted arguably her best IIAC game statistically with 16 points and 13 rebounds on 7 of 9 shooting in win over Buena Vista on January 9.

Keys to the Game: Forcing turnovers
Loras is last in the IIAC in turnover margin (-6.00 per game) with the Spartans not far behind at -2.67 per game. The Spartans need to keep the ball out of the top-ranked shooting (46.2%) and rebounding (+14.5 reb. margin) team in the conference to claim victory.

Stat: 0.33
Assist-to-turnover ratio (10 assists to 30 turnovers) in only IIAC loss to Simpson, 81-53, on January 13. Loras' 30 turnovers was a season-high and a stark contrast to their 1.18 A/T ratio in 5 other IIAC wins.
UD-LORAS MEN'S PREVIEW
Both teams come into their first rivalry match-up tied for the IIAC lead with a 4-2 record. In their last game, the Spartans (11-5, 4-2 IIAC) were bested by Coe on the road, 71-58, after being outscored 11 points in the second half while the Duhawks (9-8, 4-2 IIAC) roll in with a two-game winning streak over Luther and Wartburg. Wednesday will feature the IIAC's top-2 scorers in UD's Andre Norris (22.0 ppg) and Loras' Justin VanWambeke (21.8 ppg) who have a combined six, 25+ point games in IIAC play. Norris continues his assault on UD's all-time scoring mark of 1927 points and needs 211 points over the last eight IIAC games (26.4 ppg) to break it.

Scouting Loras
Player to Watch: Loras' Justin VanWambeke
VanWambeke has been hot as of late, scoring 25 points and 28 points, respectively, in the Duhawks last two wins against Luther and Wartburg. During IIAC play, the 6-0 junior has four, 21-point games, leads the IIAC in steals (2.2 spg), is third in three-point percentage (60.6%), and ranks second in scoring behind Norris at 21.8 ppg.

Key to the Game: Perimeter play
Loras leads the IIAC in three-point percentage (42.0%) and ranks second in both three-point percentage defense (33.1%) and three-pointers made (55). After hitting at least eight threes in four of their wins, the Duhawks were held to a combined eight threes (8 of 30) in both of their losses to fellow three-point aficionados, Simpson and Central.

Stat: 2.1x
The Duhawks more than double (2.1 times), on average, their assist total in wins as opposed to losses (164 to 77). Loras is second in IIAC play in assists per game (14.7), with many of those going to the open three-point shooter.