Tejumola Ologboni, Storyteller, Folklorist, and Oral Historian, to Speak at UD
Oct 28, 2015 | J.Crane
Tejumola Ologboni (Teju), Storyteller, Folklorist, and Oral Historian, to Speak as the Office of Multicultural Student Engagement for MSE Speaker Series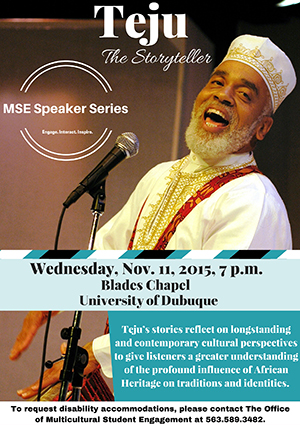 On Wednesday, November 11, the University of Dubuque's Office of Multicultural Student Engagement will host Tejumola Ologboni (Teju), Storyteller, Folklorist, and Oral Historian, who will deliver the storytelling that, reflects on longstanding and contemporary cultural perspectives to give listeners a greater understanding of the profound influence of African Heritage on traditions and identities. The storytelling will begin at 7:00 p.m. in Blades Chapel on the University of Dubuque campus. The event is free and open to the public.
Teju was born in Salina, Kansas and moved with family to Milwaukee, Wisconsin when he was 11 years old. He is a graduate of the University of Wisconsin - Madison in Art and Education and was awarded a Federal Foreign Language Graduate Fellowship to study African Language at Indiana University - Bloomington. He is an avid student of African folklore and one of the nation's leading authorities on African Spirituality and Culture.
As an educator, he taught African Literature, African American Literature, Creative Writing, and English in the Africology Department at University of Wisconsin - Milwaukee. He also taught at Marquette University in Milwaukee and at Dominican College in Racine, Wisconsin. Teju comes from a long family tradition of storytellers. His mother and father, his grandmothers, one grandfather, and a great grandfather were storytellers. His stories are drawn from African traditions and African American history and folklore.
His high-energy, fast paced, and witty performances are spellbinding. These riveting performances always hint at wry humor, revolutionary teachings, and lessons in love. In addition to his repertory of original stories and poems, Teju is an accomplished percussionist.
The Office of Multicultural Student Engagement established the MSE Speaker Series to raise awareness and promote learning about cross cultural experiences, diversity, and equality as well as encourage personal affirmation, empowerment, and academic success. The Series compliments the University of Dubuque's Mission by helping to build a community where diversity is appreciated and Christian love is practiced.