Van Dyke's Shutout Leads to First Career IIAC AOW Honor
Apr 26, 2016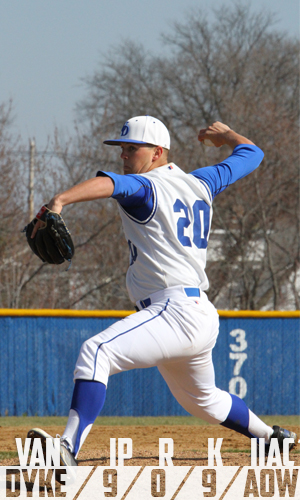 Van Dyke Complete Stats
Official IIAC release
DUBUQUE, Iowa – Sophomore starting pitcher, Doug Van Dyke, tossed a 9.0-inning complete game shutout of #23 Buena Vista in a 4-0 victory last Saturday afternoon to earn his first career Iowa Conference Male Athlete of the Week honor.

Van Dyke (3-3) became the first pitcher this season to deliver a 9.0-inning shutout against the Beavers (22-8, 13-5 Iowa Conference) while striking out a career-high nine batters in the process. It was his second, 9.0-inning complete game start in his last three appearances after allowing one run to Loras in a 5-1 victory on a April 12.

It was UD's only win this season against a Buena Vista squad that ranks first in home runs (21), second in scoring (6.6 runs per game), and third in batting average (.299) during IIAC play.

The Bartlett, Ill. now ranks third in the IIAC in innings pitched (35.2), sixth in strikeouts (27), and seventh in ERA (2.78) in five IIAC appearances, all starts.

Van Dyke keeps the Spartans (15-17, 8-12 Iowa Conference) in contention for their first IIAC tournament berth since 2005 as they reside in fifth-place with eight games remaining. Only the top six teams qualify.
UD hosts eighth-place Central College (8-24, 5-15 Iowa Conference) this Friday-Saturday, April 29-30 at 1:00 p.m. each day.