Women's Basketball Set to Host Little Spartans Girls Skill Camps in December
Nov 16, 2015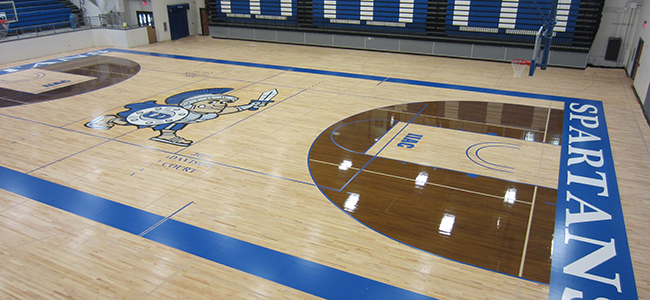 ‌
2015 WBKB Little Spartans Registration and Waiver Form
DUBUQUE, Iowa - The University of Dubuque women's basketball team will host a skills camp for girls in 1st through 8th grades on both Sunday, December 6 and 13th in the newly renovated Stoltz Sports Center. The cost is $20 and each camper will receive a UD T-Shirt, Women's Basketball Family Season Pass, and halftime recognition on December 19.

Head women's coach Mark Noll and his assistant Kelsey Steinhagen will lead the camp, along with current Spartan players. Noll has had his share of success in his eight years as head coach and has set a school record for best Iowa Conference finish in each of the last four seasons after third, third, second, and first-place showings, respectively. Steinhagen has assisted at UD since 2013 and was named to the D3Hoops.com All-Decade Third Team after a successful career at UW-Stout where she won Wisconsin Intercollegiate Athletic Conference Player of the Year twice.

The camp is broken down into two sessions by age:

Session 1 | 1st through 4th grade (3:00-4:30 p.m.)
Session 1 is for the younger camper who is at the beginning of their basketball knowledge and skill development. Campers will learn age appropriate motor movements and basketball skills in a fun atmosphere. Games and relays will be played with a basketball to introduce basic skills. Sportsmanship and teamwork will be emphasized, and the rules of the game will be introduced. It's a great introduction to the sport for young, budding basketball players.

Session 2 | 5th through 8th grade (4:45-6:15 p.m.)
‌Session 2 is a high energy camp in which campers will be taught core basketball fundamentals, develop a basic knowledge of the game and have fun! Each day will be broken up into shooting, defense, rebounding, passing, ball handling, and footwork. Learning skills, working in a team, and having fun you will learn how to enhance your overall game. The camp will emphasize fundamental basketball and overall player development.
Walk-up registrations will be accepted up until the first day of camp on December 6. Please make sure to fill out and bring Registration and Waiver form attached above.

If question, contact Head Coach Mark Noll at mnoll@dbq.edu or (563)-589-3279 or Assistant Coach Kelsey Steinhagen at ksteinhagen@dbq.edu or (563)-589-3415.