Spartan Wrestlers Visit Canada
Jul 27, 2017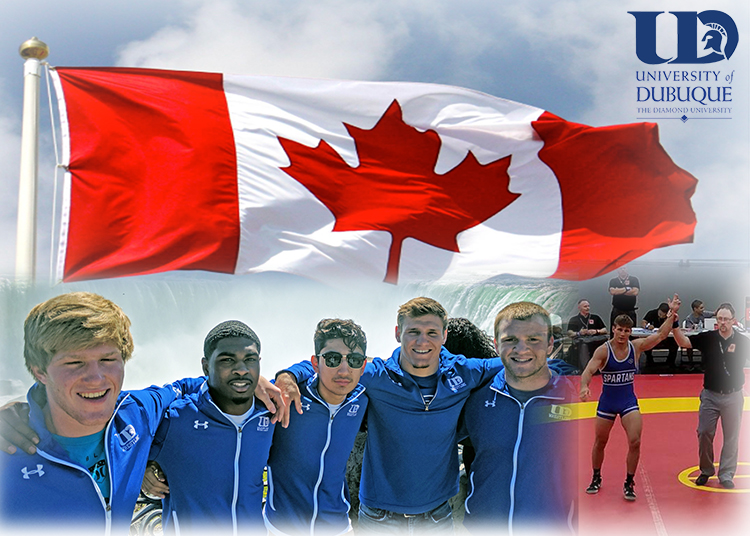 GUELPH, Ontario, Canada — Current assistant University of Dubuque coach and former Roseburg High School (Ore.) standout Chayse Jackson took fifth place in his first International Senior Men's Freestyle Wrestling competition at the Canada Cup on July 8. Jackson was a state champion at Roseburg High School under coach Steve Lander. He was a three-time state place winner, and won the 140-pound Class 6A title as a senior in 2011.
Jackson was part of a cultural exchange trip the University of Dubuque Spartans set-up in Canada in the middle of May with the University of Guelph. Four student-athletes (Ethan Cain (Fr., Polo, Ill.), Patrick Mooney (Fr., Manahawkin, N.J.), Nile Laguna (Fr., Phoenix, Ariz.), and Armad Willis (So., Chicago, Ill.) joined Jackson and head coach Jon McGovern. The group enjoyed the Guelph Arboretum, which is 330 acres of campus property, which provides a "living laboratory" for research and teaching.
Part of the cultural exchange, a one credit class at UD included trips to Basilica of Our Lady Immaculate where they also attended mass. It's a Roman Catholic basilica designed by Joseph Connolly and built between 1875 and 1883 with decorative carving and stained glass by expert craftsmen. Connolly designed and built 17 Gothic Revival Churches across Ontario and Michigan.
Other sites visited included the Guelph Civic Museum, the John McCrae House (a Canadian poet, physician, author, and soldier) and a 90 minute trip to Niagara falls. It offered a chance for the Spartan wrestlers to learn about freestyle wrestling and train with the University of Guelph wrestling team and local youths, ending their week with a dual meet. UD split their matches, winning two and losing two matches.
"The trip was a great learning experience with culture and learning a new wrestling style," added Jackson. "We were able to bring back many great experiences for our student-athletes in wrestling and the added cultural experiences were a bonus."
Jackson learned on the trip about an upcoming senior wrestling tournament in early July. He made the trek back across the Northern border in July to face competitors from seven countries that were represented in the United World Wrestling Canada Cup tournament on July 7-8. Over 200 competitors from countries Chile, Columbia, United States of America, Canada, Cuba, and Europe battled it out.
Wrestling at 70 kilograms (154.6 pounds), Jackson won his first two matches over Joseph Dashou and 3-1 decision over Jimmy Devine of New York Athletic Club to reach the semifinals. In the semifinals he lost a 5-4 decision to Marino Mason of the New York Athletic Club
Jackson lost to Santiago Martinez of New York Athletic Club 0-10, dropping him to the fifth place match. Jackson rallied with a 4-1 decision over Dillon Williams of Team Impact, who was second in the 2016 Canada Cup at 65 kg, and recently placed third in the Canada Senior National Championships.
The top three medaled and qualified for the Canadian Open for a chance to qualify for the world team. Up next for Jackson is the Bill Farrell Memorial International in New York, N.Y. in the second week of November. The meet will serve as the U.S. Non Olympic Weight World team Trials Qualifier. He will wrap up the year at the senior nationals and qualifier in second week of December in Las Vegas.
"For me it was great to be on the mat again after suffering a season ending injury in college and to see how competitive I still am in the international level, Jackson said. "It was a good experience and I'm looking forward to upcoming tournaments to continue my international wrestling. I'd like to thank all the Guelph coaches who were in my corner at the meet, and University of Dubuque coach Jon McGovern for helping me train."
-30-