Spartans at Day One of NCAA Championships
Mar 9, 2018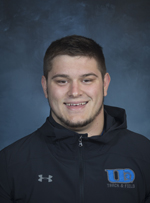 BIRMINGHAM, Ala. – The University of Dubuque track and field team kicked off day one of the NCAA Division III Indoor Championships with four athletes competing. Blaze Murfin highlighted the day with an All-American performance in the weight throw.
Blaze Murfin was the first Spartan to compete in the championships on Friday and started the meet on a strong note. On Murfin's second toss in the weight throw, he set a school record with a throw of 19.62 meters. The mark put him in third place at the time, and he would stay there for the remainder of the event.
This is the second straight year that Murfin has grabbed All-American honors in the weight throw after finishing in sixth place at the 2017 indoor championships. He will compete in the shot put on Saturday at 11:00 a.m.
In the second event of the day for UD, Kelshawn Johnson took place in the 60m hurldes. Johnson ran in the first of two prelims and finished in 8.37 seconds. His time put him in 12th place, just outside the time to qualify for the finals.
Colfay Pointer took part in the fourth and final heat of the 400m. Pointer got out to a fast start out of the blocks and lead the heat through about 300m, but was caught at the last second by another runner to finish second in the heat. Pointer posted a time of 48.70, finishing just outside of the top eight qualifiers for the 400m finals.
Rebecca Burmahl finished 14th in the women's weight throw on Friday afternoon. Her best toss of the day was her first, launching it 15.76 meters; however it was not enough to advance to the finals.
Tanasha Atwater will join Blaze Murfin as the only Spartans participating tomorrow. Atwater will throw the shot put beginning at 2:00 p.m.