2018-19 UD Softball Camp Announced
Aug 23, 2018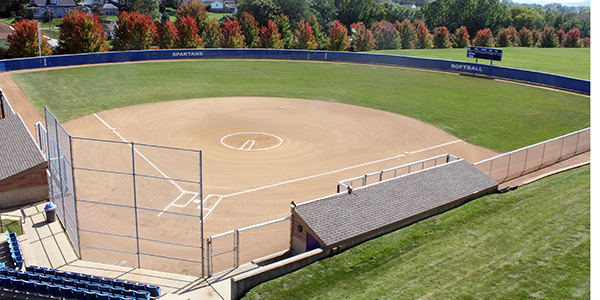 2018 Softball Fall Camp brochure.
DUBUQUE, Iowa - Head Softball Coach Jeff Lamb has announced the 2018 fall softball camp which will be held on Friday, Sept. 21 and Sept. 22 on campus. The camp will cost $50 per person and will have 25 spots for 2019 graduates. Cost does include meals and admission to the Spartan football game on Sept. 22.
The UD Softball team is very excited for our fall camp this year with many new faces anxious to start collegiate play. During our camp, you will be working with collegiate athletes and coaching staff to enhance skills needed to succeed in high school and to prepare for the collegiate style of play. Some of the goals of the camp include: provide individual instruction to enhance skils of each student-athlete; make new friends who love softball; and aquire the advanced skills to be successful on and off the field.
Head Coach Jeff Lamb joined the University of Dubuque in July of 2018 and was named the 14th head softball coach in the school's history. He succeeds Wendi Wipperfurth, who moved into a role as assistant to the athletic director after eight seasons, and was UD's all-time wins leader with 114 wins.
Lamb finished his fifth season as Clarke University head softball coach in Dubuque, Iowa with a 124-98 overall record. Lamb guided the Crusaders to 21 victories in his first season at Clarke (2014). A year later, Lamb's the Crusaders compiled a school-record 31 wins, posted a 15-9 record in Midwest Collegiate Conference play and qualified for the MCC Final Four. In 2017, his team broke the school record again with a 41-12 overall mark.
Lamb also coached Marshalltown Community College, Marshalltown, Iowa, where he served as the Tigers' head softball coach for five years. During his stint at Marshalltown, Lamb's teams set over 30 individual and team records. He served as the head softball coach at Marshalltown High School in 2012 and 2013. Lamb guided the 2012 Bobcats to the program's first state tournament appearance and coached the program's first all-state player in over a decade.
Prior to taking the softball reins at Marshalltown, Lamb spent two seasons as the Tigers' assistant baseball coach. He also served as a graduate assistant baseball coach at Georgia College and State University and as a volunteer assistant baseball coach at West Chester.
Lamb was a member of the National Fast Pitch Coaches Association Division II All-American Committee in 2013. He played two seasons of collegiate baseball at Marshalltown and was also a member of the baseball programs at Drexel University and West Chester University. He received his bachelor of science degree in professional studies from West Chester University, and his master of science degree in education from Iowa State University. The Fort Madison, Iowa, native resides in Dubuque with wife Rachel and their two children.
Tentative schedule:
Friday, Sept. 21
3:30 p.m. - campus tour
5:00 p.m. - UD Softball practice at UD Softball Field
6:00 p.m. - Player introduction, meet and great and Dinner with softball team in campus cafeteria
8:00 p.m. - team activity to be announced
Saturday, Sept. 22
8:00 a.m. - breakfast in campus cafeteria
9:00 a.m. - UD Softball Camp begins at UD Softball Field
11:30 a.m. - wrap up camp at UD Softball Field
12:00 p.m. - lunch at Cyber Cafe on campus
1:00 p.m. - University of Dubuque vs. Central College football game at Chalmers Field
Any questions about camp or future camp dates please contact Head Coach Jeff Lamb at 5630589-3683 or by email at jlamb@dbq.edu or Assistant Coach Jamie Deering at jdeering@dbq.edu
Please return this portion with registration form.
University of Dubuque Softball Camp Application
Please fill out this application completely and return with your payment to the address below:
Jeff Lamb
University of Dubuque
2000 University Avenue
Dubuque, IA 52001
(checks payable to the University of Dubuque)

Preferred Position: ____________________
Name: _________________________________________ Home Address: ________________________________
City/State/Zip:________________________________ Email: _________________________________________ Grade: ______
Age: _____ Birthday: _____________ High School: ___________________________________
Allergies: ______________________________________ Medications: ___________________________________
Designated Dubuque Hospital: __________________ Emergency Contact Name: ______________________
Emergency Cell Phone #: _______________________ Payment Amount: _______
Parent/Guardian signature is to confirm that you have read and agreed to all aspects of the "Hold Harmless" Agreement - Waiver and Release of Claims

University of Dubuque (UD) "Hold Harmless" Agreement - Waiver and Release of Claims
-Each participant's parent/guardian must complete this form prior to their daughter's participation in the softball camp. Please read this form carefully and be aware that you will be waiving and releasing all claims for injury/illness sustained arising out of this activity by your daughter.
-As the parent/guardian of the participant, I certify that she is physically/mentally able to participate in this activity. Furthermore, permission is hereby granted to UD to provide necessary first aid treatment for the camper as well as permission to transport to a medical facility.
-Please recognize that UD does not carry medical insurance for injuries/illnesses sustained arising out of this activity. It must be noted that the absence of health insurance coverage does not make UD responsible for payment of medical expenses.
-In consideration for the participant's involvement in the UD named activity above, I agree to assure all risk and fully release all liability UD, members of the University community, its directors, ocers, trustees, agents, servants, and employees for any injuries including death, damages of loss of severity which my child may sustain as a result of participating in this activity.
-I agree to waive and relinquish all claims I may have against the UD community, its directors, ocers, trustees, agents, servants, and employees, as a result of participating in this activity.
-I further agree to indemnity and hold harmless UD, members of the University community, its directors, ocers, trustees, agents, servants, and employees from any and all claims from injuries/illness including death, damages and losses sustained by my child or siding out of, connected with, or in any way associated with my participation in this activity. This will include holding the University of Dubuque harmless from negligence on the part of the University of Dubuque
Parent Name: __________________________________ Parent Signature: ______________________________