Dienstbach's Header Gives Spartans Overtime Win
Aug 31, 2018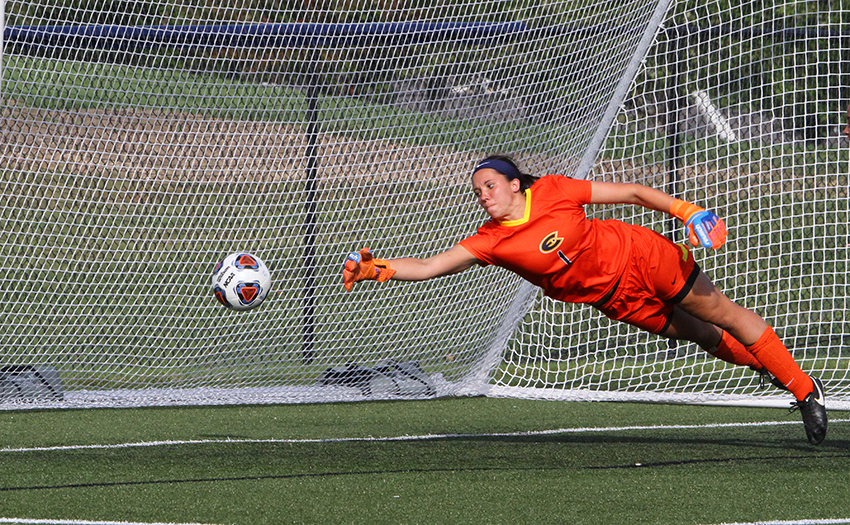 UW-Eau Claire's keeper couldn't reach the game winning header in double overtime by the Spartans Natalie Dienstbach in the 112th minute.
DUBUQUE, Iowa – The University of Dubuque women's soccer team opened the 2018 season in thrilling fashion as they took down UW-Eau Claire 1-0 in overtime.
Dubuque, Univ. of 1 , UW-Eau Claire 0 (2OT)
How It Happened
-The Spartans had a golden chance to score in the opening minute with a scramble in front of the net but the shot off of Lexus Rose's foot sailed high.
-In her first career minutes freshman Alexis Turner made her presence felt as she deflected a ball in the box towards the net but the Blugold goalie changed directions just in time to save the shot.
-Late in the first half, the Blugolds sent shot off post and off goalie Victoria Roethler but did not find the back of the net to keep the game scoreless.
-The first scoring chance of the second half came midway through the half, from Alexis Turner, again, this time the UW-Eau Claire goalkeeper came up with a sliding stop.
-Neither team put together much of a scoring chance for the rest of the first half, sending the game into overtime.
-After a scoreless first overtime, the Spartans final broke through in the 112th minute when Lauren Cangelosi lofted a corner into the box where Natalie Dienstbach headed it past the goalie for the victory.

For the Spartans
Goalie: Victoria Roethler - 111:18, 0 GA, 6 Saves
Scorers: Natalie Dienstbach (112')
For UW-Eau Claire
Goalie: Anna Sveiven – 111:18, 1 GA, 6 Saves
Scorers: None

Up Next for UD
The Spartans hit the road for the first time on September 5th to take on North Central College in Naperville, Ill.