Maleniak Promoted to Head Cross Country Coach
Jul 26, 2018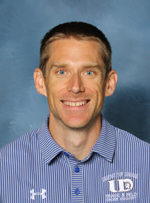 DUBUQUE, Iowa – The University of Dubuque has announced that Rich Maleniak has been promoted to Head Cross Country Coach. Maleniak served as Assistant Head Cross Country Coach for UD in 2017.
"I'm really excited to get going on my second year," said Maleniak. "The first year at a new program is always tough, as athletes are adjusting to a new training program, and I'm learning about their strengths and weaknesses and getting them to buy in to what we're trying to accomplish. We still have a lot of work to do, but we did a lot of work last year getting stronger and improving our fitness that should pay off this upcoming year."
Prior to UD, Maleniak, a 4-time USTFCCCA Central Region Assistant Coach of the Year lead the women's middle distance and distance runners at the University of St. Thomas (UST) for five seasons. Throughout his tenure at UST, Maleniak helped runners gain conference, region, and national success in cross country and track and field covering events from 600 to 10,000 meters.
At UST, Maleniak coached 29 individuals and relays to MIAC conference titles and 57 all-conference finishes. On the national level, Maleniak coached athletes to 20 - NCAA All-American performances in individual or relay events including back-to-back national titles in the distance medley relay (2015 & 2016) and a national championship in the indoor mile (2016). He has coached four USTFCCCA Regional Athlete of the Year award winners.
Maleniak helped lead the UST women's cross country team to the NCAA Championships for three consecutive seasons (2014-2016). He also coached three individuals to All-American performances at the NCAA DIII Cross Country National Championships, an 8th and 22nd place finish in 2012 and 13th place finish in 2014.
Before joining the St. Thomas staff in 2012, Maleniak spent the previous two seasons as a graduate assistant coach for the cross country and track and field teams at NCAA DI Illinois State University. While at ISU, he was responsible for on and off campus recruiting and implementing workouts for the distance runners. In 2011, women's cross country won their first Missouri Valley Conference title in program history. The Redbird distance crew also had six individual or relay Missouri Valley Conference champions in cross country and track and eight NCAA Regional Qualifiers.
Maleniak began his college coaching career at the University of Wisconsin-Eau Claire as an assistant coach for the men's and women's track and field and cross country programs. Maleniak was in charge of developing workout plans for the 800 meter training group. He coached two NCAA All-Americans and his group set new school records in both men's and women's 800 meter run and men's 4x800 meter relay. He assisted with the women's cross country team as it improved from placing 12th at the NCAA Championship meet in 2006, to 8th place in 2007, and 5th place in 2008.
Maleniak earned his bachelor's degree from the University of Wisconsin-Eau Claire in Chemistry with an emphasis in business in 2002, and earned a master's degree in Sports Management from Illinois State University in 2011. As a competitor himself, he competed in five national championship competitions and was a 2-time NCAA Division III Track All-American. Maleniak also served as a team captain and was named MVP of the track team after his senior season. He is the UW-Eau Claire school record holder in the indoor mile and outdoor 1500m.