UD Announces 2022-2023 Live at Heritage Center SchoolBus Performance Series
By University Relations Staff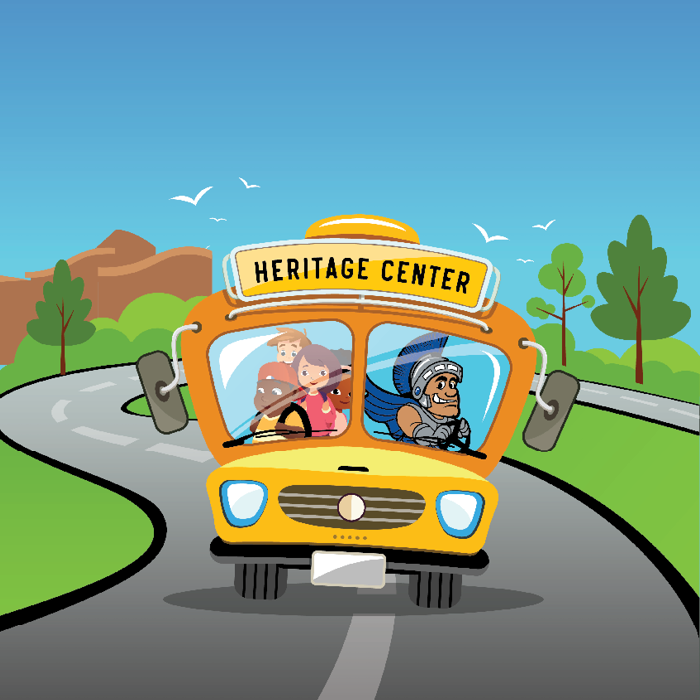 DUBUQUE, Iowa - The University of Dubuque is excited to announce the 2022-2023 Live at Heritage Center SchoolBus Performance Series. New this season is a partnership with the National Mississippi River Museum & Aquarium to bring regional schools a full-day field trip excursion checking all the boxes for an ultimate STEAM - science, technology, engineering, art, and math - experience.
"We are excited to celebrate our 10th anniversary season of this unique series that continues to capture the imagination of thousands of school-aged children throughout the tri-state area. Over the years, schools have traveled from as far as 75 miles away to attend this series that began by serving 2,807 in the 2013-2014 inaugural season to its pre-pandemic peak of 12,767 students, teachers, and chaperones in the 2019-2020 season. Besides our new partnership with the River Museum for 2022-2023, we also will debut some more intimate SchoolBus theater experiences in our Babka Theatre. Highlights of the season will include a free offering with a performance by Doreen's Jazz New Orleans in partnership with the Dubuque Arts Council in addition to The Wizard of Oz that will feature up to 50 youth dancers from throughout the area who will share the stage with American Midwest Ballet, a professional dance company serving the greater Omaha, Nebraska area. This peer-to-peer experience is sure to be an inspiration to the many young people who attend this SchoolBus presentation," said Thomas Robbins, executive director of Heritage Center.
Select SchoolBus performances will be paired with a guided tour of the river museum. Students will start the day with a 9:45 a.m. performance at Heritage Center, followed by a lunch break, and then a one-and-a-half-hour guided tour of the River Museum focusing on stories of the Mississippi River Watershed with highlights including the Main Channel, Backwater Marsh, Delta Aquariums, and River of Innovation Gallery. There is a limit of 300 attendees per day for the River Museum portion plus a three-week minimum reservation deadline. The Ultimate STEAM Experience package pricing is $15 per person with one free admission for every 15 purchased. Pricing is discounted $2 per person if reservations are received by Wednesday, June 1, 2022.
"We've been able to partner with the University of Dubuque in a number of areas over the years and look forward to this new opportunity to collaborate around STEAM education. We're most excited for the youth who will benefit from what we anticipate being a highly engaging, highly educational experience," said Wendy Scardino, director of marketing and communication at the National Mississippi River Museum & Aquarium.
The SchoolBus season will start Monday, October 17, 2022, and run through Friday, April 21, 2023. It will include 10 programs that feature nationally touring professional guest artists. Performances will complement classroom curriculum with creative and imaginative learning, critical thinking opportunities, and live performance experiences. Study guides will be available to integrate performance topics into classroom activities.
Launched in 2014, the SchoolBus Performance Series is an annual daytime field trip program for public, private, homeschool, and accredited preschool and daycare groups with students ages 4 and older. Most performances are approximately one hour in length and may include a question and answer period.
Online reservation request forms are available at www.dbq.edu/heritagecenter/schoolbus. Seat pricing is $6 to $7 per seat, depending on the quantity purchased and an offering of one free seat for every 15 seats purchased. Seats are discounted by $1 if reservations are received by Wednesday, June 1, 2022.
For more information about the reservation process, please contact Victoria Molle, director of audience services, at vmolle@dbq.edu or 563589.3432.
SCHEDULE
Anne Frank: Voices from the Attic
Performed by GreatWorks Theatre Company
9:45 a.m. Monday, October 17, 2022
John and Alice Butler Hall, Heritage Center
Peter and the Wolf
Performed by Eulenspiegel Puppets
9:45 a.m. and 12:15 p.m. Friday, November 4, 2022
Babka Theatre, Heritage Center
Junie B.'s Essential Survival Guide to School
Performed by TheaterWorksUSA
9:15 a.m. and 12:15 p.m. Monday, December 12, 2022
John and Alice Butler Hall, Heritage Center
Warriors Don't Cry
Performed by TheaterWorksUSA
12:15 p.m. Monday, January 23, 2023
Babka Theatre, Heritage Center
Doreen's Jazz New Orleans (Free Event)
Presented in partnership with the Dubuque Arts Council
9:45 a.m. Wednesday, February 22, 2023
John and Alice Butler Hall, Heritage Center
Paddington Gets in a Jam
A Jonathan Rockefeller Production produced by Bear About the House, LLC
9:45 a.m. Monday, March 6, 2023
John and Alice Butler Hall, Heritage Center
It's Okay to be Different - Stories by Todd Parr (Ultimate STEAM Experience)
Performed by Mermaid Theatre of Nova Scotia
9:45 a.m. Friday, March 10, 2023
John and Alice Butler Hall, Heritage Center
Ben Franklin and His Kite by Scott Wichmann (Ultimate STEAM Experience)
Performed by Virginia Repertory Theatre on Tour
9:45 a.m. Tuesday, March 28, 2023
John and Alice Butler Hall, Heritage Center
The Adventures of Tortoise and Hare: The Next Gen (Ultimate STEAM Experience)
Performed by Lightwire Theater
9:45 a.m. Monday, April 3, 2023
John and Alice Butler Hall, Heritage Center
American Midwest Ballet's The Wizard of Oz
Presented in collaboration with Dubuque's Academy of Ballet
12:15 p.m. Friday, April 21, 2023
John and Alice Butler Hall, Heritage Center