UD for Kids
UD for Kids is an enrichment opportunity going into its 29th year for gifted and talented students in the tri-state area. Students demonstrating advanced abilities in academics, leadership, creativity, visual and performing arts are nominated to attend UD for Kids.
‌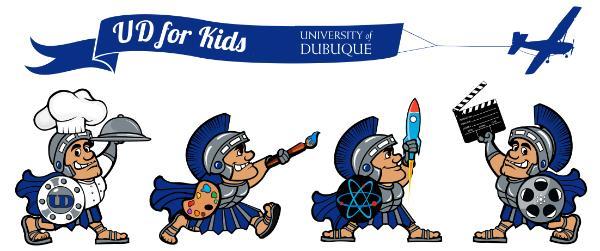 ---
2020 Dates
Week 1: June 15-19 (current 1st and 2nd graders, academic year 2019-2020)
Week 2: June 22-26 (current 3rd and 4th graders, academic year 2019-2020)
Week 3: July 6-10 (current 5th, 6th, and 7th graders, academic year 2019-2020)
Returnee Information
Last year's attendees will receive a returnee code via email by mid February. If you have not received your code by February 15, please contact Peggy Driscoll at UDKids@dbq.edu.
This code is needed for online registration in March.
Registration
Online registration will occur on Saturday, March 28, 2020.
Grades 1-2 registration begins at 7:00 a.m.
Grades 3-4 registration begins at 8:00 a.m.
Grades 5-7 registration begins at 9:00 a.m.
Class Descriptions and Information
As classes are finalized for each session, a description of each will be listed under a "Schedule" tab.
Questions
See our information tabs to help with questions, or e-mail Peggy Driscoll at UDKids@dbq.edu
---
---
---
---