Spartans Claim Six Individual Titles, 18 All-IIAC Performances
May 10, 2014 | J.Crane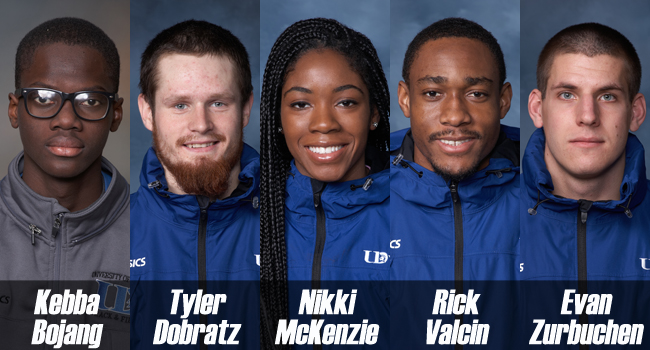 Iowa Conference Champions: K.Bojang, T.Dobratz, N.McKenzie, R.Valcin, and E.Zurbuchen.
DECORAH, IOWA - The University of Dubuque Track & Field teams claimed six individual titles and earned 18 All-Iowa Conference performances at the 2014 IIAC Outdoor Track Championships at Luther College. In addition, the Spartans set six new school records. Rick Valcin (Catries, St. Lucia/Gros Islet) won two events and earned All-IIAC in four events. Nickolette McKenzie (Hoffman Estates, Ill./Fremd) led the women by winning the triple jump and was all-conference in four events. The UD men finished in fourth place with 121 points while the women were fifth with 79 points.
Wartburg won the men's and women's team championships.
Valcin was busy on Saturday earning All-IIAC in four events with first place finishes in the pole vault and 100m Dash. He also finished third in the 200m Dash and ran the opening leg on the 4x100m Relay team that took second. Valcin successfully defended his 2014 indoor title in the pole vault by clearing 4.55m (14'-11.0"), the first IIAC Outdoor Championships title in the pole vault for UD since Chip Jackson in 1966. The junior standout won the 100m Dash in 10.85 seconds narrowly edging teammate Kyle Williams (Chicago, Heights, Ill./Bloom) by 0.10 seconds. Williams would flip the script on Valcin with a second place performance in the 200m Dash at 22.12 seconds, 0.03 seconds ahead of Valcin. Valcin and Williams teamed with Evan Zurbuchen (Hollandale, Wis./Madison West) and Andy Sierra (Fruitland, Iowa/Louisa-Muscatine) for a 42.14 time in the 4x100m Relay.
A senior, Zurbuchen brought home three all-conference medals including a victory in the 400m Hurdles, third place finish in the 110m Hurdles, and runner-up honors on the 4x1 relay. His time of 53.13 in the 400m Hurdles set a new Iowa Conference Championships record and broke the school record by 1.15 seconds. Zurbuchen jumped into 11th place in all of Division-III with his 400m Hurdles performance.
Kebba Bojang (Madison, Wis./Madison East) won the triple jump on his sixth and final jump of the day with a leap of 14.38m (47'-2.25"), the fifth longest jump in school history and 17th best jump in D-III this season. Ryan Mattingly (Janesville, Iowa/Janesville) was third in the 400m Dash at 49.62 seconds. Tyler Dobratz (Edgerton, Wis./Edgerton) won the decathlon on Friday with a school record 6,155 points, the 30th best score in Division-III in 2014.
The Spartans women's team set school records in all three relays and earned All-Iowa Conference twice. The 4x100m relay team of McKenzie, Jasmine Bethea (Schaumburg, Ill./Schaumburg), Tieisha Starks (Waukegan, Ill./Waukegan), and Brittany Burns (Beloit, Wis./Beloit Memorial) finished third at 48.36, 0.54 seconds faster than the previous school record. McKenzie, Burns, and Bethea teamed with Rachael Busjahn (Sobieski, Wis./Pulaski) in the 4x400m relay for a second school record at 3:54.65, knocking 2.34 seconds off the school record. The UD 4x800m relay of Busjahn, Fabiola Ortiz (Elgin, Ill./St. Charles North), Kiersten Wenthold (Fort Atkinson, Iowa/South Winn), and Melissa Todman (Ramstein, Germany/Ramstein) finished fifth at 9:48.16 but took 12.07 seconds off their school record from earlier this season.
McKenzie earned the first IIAC Outdoor Championships title for UD since Lisa Demerath won the 10,000m run in 2002 with a victory in the triple jump behind a winning leap of 11.70m (38'-4.75"). Her distance in the triple jump moves her within striking distance of a spot in NCAA Division-III Outdoor Championships as she currently sits 17th. On Friday night, McKenzie was the runner-up in the long jump. Amy Tranel (Hazel Green, Wis./Southwestern) obliterated her own school record in the javelin with a second place throw of 37.47m (122'-11.0"), a personal best by 11.1 inches. Brenda Breimon (Oconomowoc, Wis./Slinger) was runner-up in the pole vault for the third straight IIAC Championships at 3.25m (10'-8.0").
Busjahn qualified first in the 400m Dash prelims at 57.37 seconds and took third in the finals at 57.88, the second best time all-time at UD. Ortiz also moved into second all-time in the 800m Run with a sixth place finish at 2:17.63.
Team Rankings

MEN
WOMEN
1.
Wartburg
231
1.
Wartburg
281.5
2.
Central
166
2.
Luther
178
3.
Loras
145
3.
Loras
119.5
4.
Dubuque
121
4.
Central
94
5.
Luther
67
5.
Dubuque
79
6.
Buena Vista
64
6.
Buena Vista
50
7.
Simpson
43
7.
Coe
36
8.
Coe
20
8.
Simpson
19
Stay up-to-date with all UD Athletics on Twitter at: @UDubuqueSports