Valcin Wins Pole Vault Championship
May 24, 2014 | J.Crane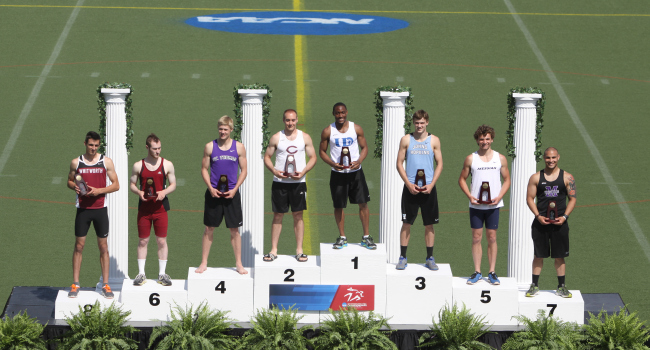 University of Dubuque pole vaulter Rick Valcin atop the podium.
DELAWARE, OHIO - University of Dubuque student-athlete Rick Valcin (Catries, St. Lucia/Gros Islet) won the schools first NCAA Division-III Outdoor Track & Field individual national championship by claiming first place in the pole vault on Thursday afternoon. Valcin cleared 5.15m (16'-10.75") in a jump off to win the title. The final two competitors were a rematch of the 2014 Indoor Track Championships where Michael Bennett of the University of Chicago won the matchup on misses. The Spartans junior upped his own school record by six inches in addition to claiming All-American honors.
Valcin and Bennett each cleared 5.10m (16'-8.75") on their first attempt to setup the rematch from the indoor championships. Johns Hopkins freshman Andrew Bartnett failed on all three attempts at 5.10m to earn third place. Valcin was nearly crowned the champion at 5.05m before Bennett and Bartnett each cleared the bar on their final attempt. Valcin and Bennett each failed on all three attempts at 5.15m to setup the jump off in which Valcin cleared on his first jump to win the title.
Valcin joins Phillip Jones (2011 - indoor 55m) and Basil Steel (2003, 2004, 2005 - indoor 55m hurdles) as the only NCAA Division-III Track and Field Champions in UD Track history. Valcin is the first UD field performer to earn All-American honors outdoors since Anthony Jenkins took fourth in the triple jump in 2008.
UD senior Evan Zurbuchen (Hollandale, Wis./Madison West) finished 14th of 20 runners in the 400m hurdles prelims, failing to qualify for the finals on Saturday. His time of 53.66 seconds placed him 5th in the Heat 2.
The Spartans Nickolette McKenzie (Hoffman Estates, Ill./Fremd) placed 15th of 22 competitors in the women's triple jump with leaps of 11.32m (37'-1.75") in her second and third jumps. UD sophomore Kebba Bojang (Madison, Wis./Madison East) finished 18th of 20 jumpers in the men's triple jump. Bojang jumped 13.79m (45'-3.0") in his first attempt of the championships.
As a team, the UD men finished tied for 26th place with 10 points. Mount Union won its first track championship in the school history with 47 points. On the women's side, Wartburg won its third straigt national title with 65 points.
RESULTS: 2014 NCAA Outdoor Championships
Stay up-to-date with all UD Athletics on Twitter at: @UDubuqueSports