Spartans Pitching Coach Kalb Battles a Tough Opponent, Cancer
Jun 21, 2017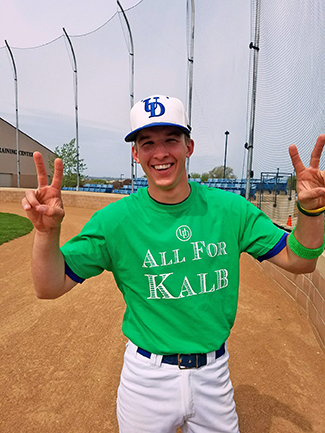 Spartan Tyler Lewan fundraised for his coach this spring.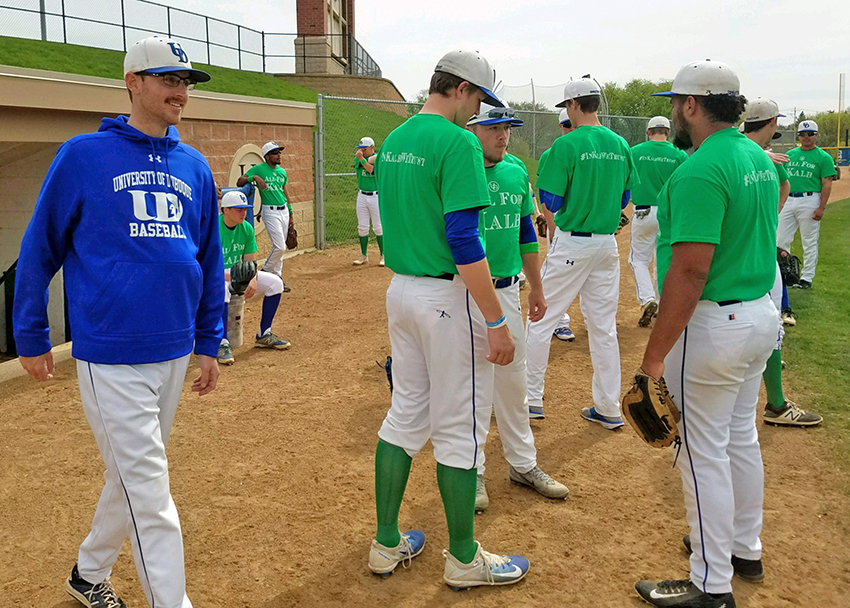 UD's Pitching coach and recruiting coordinator L‌uke Kalb (in blue) doesn't let a rare form of liver cancer keep him away from the game he loves.
DUBUQUE, Iowa - Baseball is a numbers game. Batting averages, slugging percentage, on base percentage, and fielding percentage are just some of the important categories you strive for a high number. Luke Kalb, University of Dubuque's pitching coach and recruiting coordinator, wishes for the days when those were the most important numbers in his life.
Kalb, a Dubuque, Iowa native, was diagnosed with Fibrolamellar hepatocellular carcinoma (FHCC), a rare form of hepatocellular carcinoma (HCC) often referred to as liver cancer just a month after beginning as a graduate assistant for the Spartans in October 2014.
In October, a month after starting graduate school Kalb began having a nagging pain in his side, which wouldn't go away. Finally, after going to have it checked, the diagnosis wasn't what he was expecting for the 28-year-old. Just 24 hours later he was told to see a doctor at the Mayo Clinic in Rochester, Minn. or University of Iowa Hospitals in Iowa City, Iowa. The doctors pre-game speeches were not positive and left him in the huddle with few options.
Kalb was just 1 of 200 cases for this type of cancer diagnosed worldwide annually. There is no standard chemotherapy regimen for this rare tumor. Radiotherapy has been used but data is limited concerning its use. In more advanced cases it can't be cured, but treatment and support can help you live longer and better.
"Everyone at University of Dubuque have been extremely helpful," said Kalb. "Head coach Paul Wyczawski and Athletic Director Dan Runkle have been extremely helpful for me along with my professors. That first semester of the graduate program was tough as I was absent quite a bit. The support from the campus has been tremendous as I battle this disease."
Kalb had two liver re-sections operations fail. Doctors ended up not removing a part of Kalb's liver, but they did remove his gall bladder. His medical team was able to block the blood flow to the right side of the liver, which is where the tumor remains. The left side is good, so Kalb is able to keep the liver for now.
"Unfortunately this kind of cancer would attack a new liver if I had a transplant and one of the reasons they worry about removing the bad part of my liver even in a re-section," Kalb said. "For now it's better to keep the whole liver and hope for the best."
He had surgeries in the spring of 2015 and had to take a leave from graduate school over the summer of 2015.
After Iowa, Kalb was treated by the Barnes-Jewish Hospital in St. Louis, Mo., where doctors began radiation and chemo treatments. They recommended him for a trial study and his journey took another turn at bat, this time in the mile high city of Denver, Colo. Kalb began a Phase II Study of ENMD-2076 in Patients with Fibrolamellar Liver Cancer with around 30 other patients. The study is funded by CASI Pharmaceuticals, a company dedicated to innovative therapeutics addressing cancer and other unmet medical needs. Kalb flies to Denver once a month for continued check-ups. He is currently taking five chemotherapy pills every morning, and he has been able to sustain as normal as a day as one can expect.
"I've been able to handle the side effects," commented Kalb. "Many of the others in the study have not be able to continue for various reasons, so I feel fortunate to still be one of the handful of subjects still in test study. I have learned to drink a lot of fluids in my daily diet to help my liver function as best as it can. In my initial diagnosis they did find a spot on my lung, but that hasn't grown either. The bad part is that any of the treatments haven't been shrinking the tumor either, I'm just maintaining it at about the size it was when diagnosed."
Batting .500 would be a godsend, at this point Kalb is swinging for the fences and hoping one of these therapies is the future answer for himself and others. He earned his master's degree and moved to a full-time position in June 2016.
"This spring we were atop of the Iowa Conference standings and finished runner-up" Kalb said. My energy has been good, but the best part of my day is when I'm at practice with the baseball team. A lot of senior leadership helped the practices run smoothly and the student-athletes were able to see me show up every day. This group harnessed my attitude into their lives and worked hard to achieve the successes this year because of it."
Tyler Lewan (3B/RHP, R/R, 6-0, 185, Jr., Golden, Colo./Dundee-Crown HS) organized a fundraiser for his coach this spring and has raised over $2,000 in April of 2017 with monies still being raised as president of the campus Enactus group. Enactus is an international nonprofit organization dedicated to inspiring students to improve the world through entrepreneurial action.
"I have been a part of the UD baseball program for three years now," Lewan said. "Coach Kalb's coaching career began when I came to Dubuque and we have had a great relationship ever since the day I shook his hand in our first baseball meeting. When I found out he was diagnosed with a rare form of liver cancer, I instantly began thinking of ways to support him and his family."
Lewan and his baseball teammates wore green shirts (emerald green is color for liver cancer) with the words "All for Kalb" emblazoned on the front. He also contacted the opposing team about what the Spartans had planned and the Luther College Norse joined by adding a green stripe on their batting helmets.
"Kalb has brought a positive attitude, a winning mentality, and is always finding ways to improve our program," added Lewan. "For our team, we had the best season in UD baseball history in 2017. I would say a turning point for us was being able to have this event and all the players chipping in to support our coach. When we hit $2,000 in donations to give to Kalb, that was the highlight of my season. It was an incredible sight to see with our team rockin' the 'All For Kalb' green shirts and all the fans that came out to cheer us on. The message to each of us on the team is that we are blessed to be able to have this opportunity to play the game of baseball and that we should cherish every moment. We understand Kalb doesn't have to be there, but he is willing to keep up the fight against cancer to be with our team. I praise his commitment and look towards him as a role model. Thank you Coach."
Kalb continues to look for the payoff pitch to knock cancer out, but until then shows up each day recruiting, working with the student-athletes, and looking forward to the highlight of his day… practice.