Volleyball Earns 8th Consecutive AVCA Team Academic Award
Jul 24, 2017
‌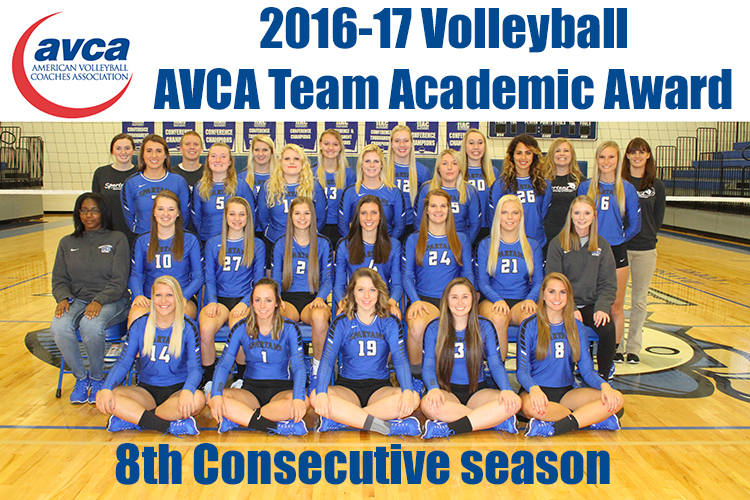 LEXINGTON, Ky. (July 24, 2017) - The American Volleyball Coaches Association (AVCA) announced today that 822 teams have earned the AVCA Team Academic Award for the 2016-2017 season. This number breaks the previous year's total of 764 to set an all-time high. The University of Dubuque Spartans earned their eighth consecutive AVCA Team Academic Award honor under head coach April Elsbernd.
"As a program, academics are a top priority, and its exciting to see this group hit the milestone of eight consecutive years on the AVCA Team Academic Award list," said Elsbernd. "Not only did the team reach their goal set last fall, they earned a spot on the AVCA Team Academic Honor Roll finishing in the top 25% percent of Division III. I am so proud of this group of young women who not only perform on the volleyball court, but also excel in the classroom. It's impressive to see the program reaching new heights athletically, while still maintaining its academic strength and integrity."
The 2016-2017 Spartan Volleyball finished with a team cumulative GPA of 3.5 on a scale of 4.0.
The award, which was initiated in the 1992-93 academic year, honors collegiate and high school volleyball teams that displayed excellence in the classroom during the school year by maintaining at least a 3.30 cumulative team grade-point average on a 4.0 scale.
The AVCA Team Academic Award, celebrating its 25th year, is the single largest award offered by quantity of schools, players and coaches honored. Since the 2000-2001 season, the number of recipients have increased every single year but two, while amassing a 532 team increase over the span of the last decade. Since the award's inception in 1993, the amount of award winners has increased from 62 to its current number of 822.
Girls high school led the way with 277 recipients, an increase of 17 over last year. NCAA Division I honored 145 programs, while NCAA Division II notched 119 honorees. Once again, NCAA Division III had the second-most honorees this year with a total of 150 schools, a 10-school increase over last year's record number.
Prior to 2016-2017, only 29 teams had attained the pinnacle of volleyball success in both earning the AVCA Team Academic Award and winning their respective collegiate national championship in the same academic year. This year, the AVCA is proud to recognize five programs that excelled in the classroom and on the court: Stanford University (NCAA Division I), Concordia University, St. Paul (NCAA Division II), Calvin College (NCAA Division III), Hastings College (NAIA), and Ohio State University (NCAA Division I-II Men).
With 2016-2017 marking the 25th anniversary of the award, the AVCA is introducing additional honors to schools that have a minimum Team Academic Award streak of 15 years, and also for schools that scored the highest GPAs in their respective divisions. In order for a school to be awarded as an honor roll recipient, their division had to reach a minimum number of nominations. For NCAA Division I, II, III, and girls high school, their nomination number allows for a top-25 honor roll. For NAIA women, a top-10, with two-year college, collegiate men, collegiate beach, and high school boys garnering a top-5.
Additionally, schools that reached their Dig Pink fundraising goals through the Side-Out Foundation will continue to be honored. The 2016-2017 season saw Dig Pink participants and AVCA Team Academic Award winners raise $91,671 for breast cancer research.
Over 1,000 different schools have earned the award in the program's 25-year history, with exactly 8,461 awards been given out in total.
2016-17 BREAKDOWN BY CLASSIFICATION
Division Number of recipients
NCAA Division I Women 145
NCAA Division II Women 118
NCAA Division III Women 150
NAIA Women 51
Two-Year College 21
NCCAA 1
Collegiate Men 19
High School Girls 277 (2 sand)
High School Boys 21
College Beach 19
TOTAL RECIPIENT HISTORY
2016-2017: 822
2015-2016: 762
2014-2015: 757
2013-2014: 687
2012-2013: 623
2011-12: 536
2010-11: 481
2009-10: 450
2008-09: 409
2007-08: 354
2006-07: 308
2005-06: 287
2004-05: 276
2003-04: 305
2002-03: 205
2001-02: 178
2000-01: 130
1999-00: 140
1998-99: 149
1997-98: 132
1996-97: 134
1995-96: 116
1994-95: 83
1993-94: 98
1992-93: 62
###
About AVCA
The AVCA, with its headquarters in Lexington, Ky., is managed by Associations International. The mission of the AVCA is to advance the sport of volleyball with AVCA coaches at the epicenter of leadership, advocacy and professional development. With a membership of over 6,400 and counting, the AVCA provides a professional network for those individuals and companies dedicated to enhancing and promoting the sport. Members include collegiate, high school, club, youth and Olympic coaches, as well as volleyball club directors. The AVCA provides education to volleyball coaches, recognition of elite players and coaches, promotion of volleyball competitions throughout the world, and networking opportunities for volleyball products and services providers.