Snitker and Ortiz Claim Spartans November Student-Athlete of the Month Awards
Dec 3, 2015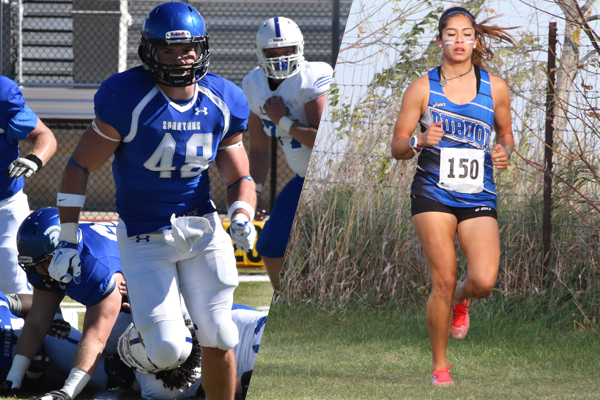 DUBUQUE, Iowa – Senior linebacker Blaine Snitker was named Iowa Conference Defensive MVP after leading the University of Dubuque football team to their first IIAC title since 2011 and junior Fabiola Ortiz became the first woman in UD history with back-to-back All-IIAC First team finishes as they both secured UD's monthly award.

Snitker earned his first Iowa Conference Defensive MVP honor after concluding the IIAC season with 52 tackles, 3.5 tackles for loss, and one interception over six IIAC games. The three-time All-IIAC First Team award winner anchored the IIAC's No. 1 scoring and total defense to cap an unblemished 7-0 in IIAC play for the first time since 1979.

The Waukon, Iowa native, was hampered in November by an elbow injury suffered in win over Coe on November 7. Snitker, eighth on UD's all-time list with 283 career tackles, missed the home season finale against Central, but recorded three tackles and one interception between brief appearances at Coe and at St. John's.

Academically, Snitker is a three-time Academic All-Iowa Conference honoree, two-time CoSIDA Academic All-District award winner, and was named a semifinalist for the nationally known William V. Campbell Trophy.

Snitker majors in mathematics and secondary education.
Ortiz etched her name in UD history with her second consecutive All-IIAC finish at the Iowa Conference Championships on October 31. Two weeks later at the NCAA Division III Central Regional Championships, Ortiz capped her stellar season by placing 12th out of 205 runners for her first career All-Region finish.

The Elgin, Ill. native became only the second Spartan woman to earn All-Region honors and the first since 2000 in a regional meet that included the eventual National Champion and six runners who went on to become All-Americans the following week at the National Meet. Her 12th place finish was less than one second and one place away from qualifying for Nationals.

On the season, Ortiz set a new school record (22:25.5), won her first career race at Loras Invitational, and won IIAC Runner of the Week twice.

The 2015 Academic All-Iowa Conference selection majors in Psychology.

2015 UD Student-Athlete of the Month Honorees
November
Male – Blaine Snitker (Football)
Female – Fabiola Ortiz (Women's Cross Country)

October
Male – Gonzalo Hernandez-Cascante (Men's Soccer)
Female – Klaudia Basierak (Volleyball)

September
Male – Gonzalo Hernandez-Cascante (Men's Soccer)
Female – Katie Lynn (Women's Soccer)